Follow Us On
---
mightyMite
Welcome to the TBCS Community Forums forums.

You are currently viewing our boards as a guest which gives you limited access to view most discussions and access our other features. By joining our free community you will have access to post topics, communicate privately with other members (PM), respond to polls, upload content and access many other special features. Registration is fast, simple and absolutely free so please, join our community today!

If you have any problems with the registration process or your account login, please contact contact us.
| | |
| --- | --- |
| | |
01-14-2009, 12:12 AM
| | | | |
| --- | --- | --- | --- |
| | Will YOU be ready when the zombies rise? | | |
mightyMite
---
Well, I've been sitting around here just reading long enough, methinks, so here we go
I've always loved the design of the Dell Dimension L700CX. The slim sub-tower form-factor, combined with the simple, minimalistic drives and decoration (or rather, lack thereof) just always appealed to me. Well, I recent came into possession of one... and so it begins.
I've been a computer enthusiast for a long time now, but this will be my first real mod..and also my first adventure into watercooling.
In the interest of keeping images to a sane level, here's links to my PhotoBucket and MediaFire folders. Pics will be in the PhotoBucket album, SketchUp models will be in MediaFire folder.
PhotoBucket
MediaFire
Ok, so this is what I'm starting with: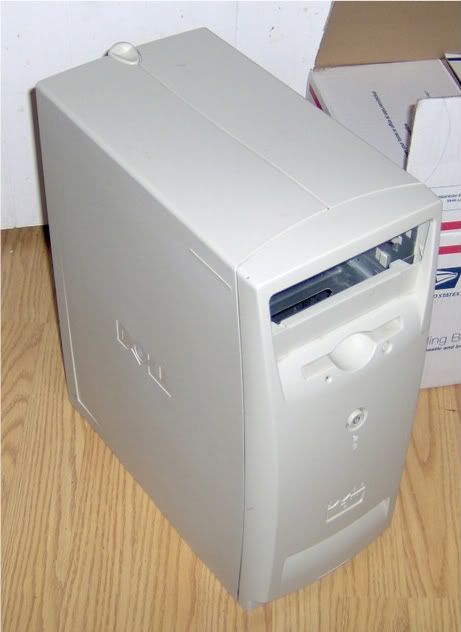 My current rig is in an Aerocool m40, which to be honest is starting to feel a little big
At first I was thinking that I would maybe be able to get everything into the case, but I started making some mock-ups, and found out there was more space in there than I thought there was.
My basic idea with this is to get my whole system, plus a watercooling setup in there, like so: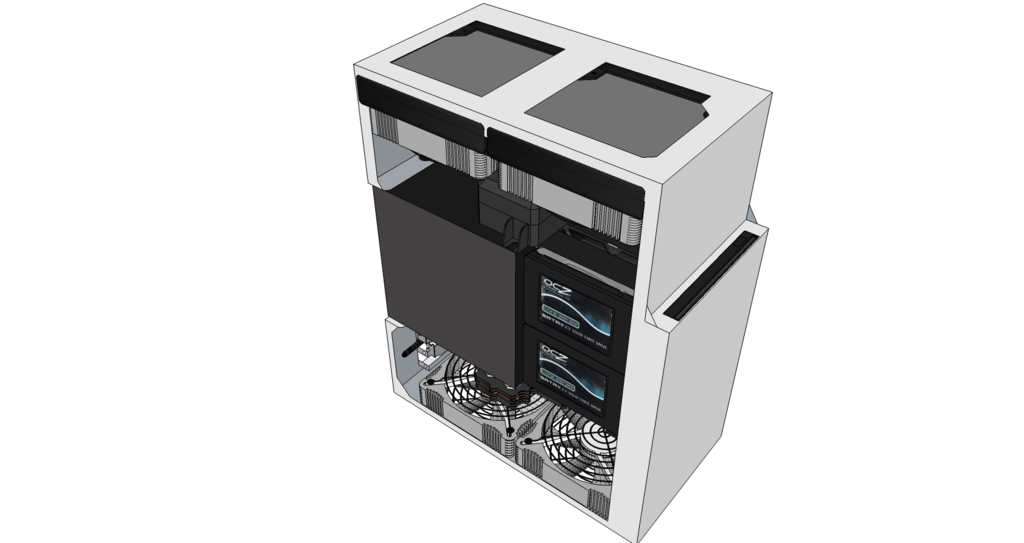 Sealing off the side, front, and rear panels so there is a constant airflow stream pulled in the bottom, up through, and out the top. I will also be modding the PSU, sealing the back panel, heavily meshing or possibly even removing the side and front panels, removing all unused cabling and shortening all cabling that is used to the minimum possible length.
I found that the top of the case was not quite long enough for a 120.2 rad, but dual 120.1 rads will fit. (well, kinda. really, I'd rather cut out the side than one end)
For fans, I chose the Evercool AL12025, which came today! (along with the grills)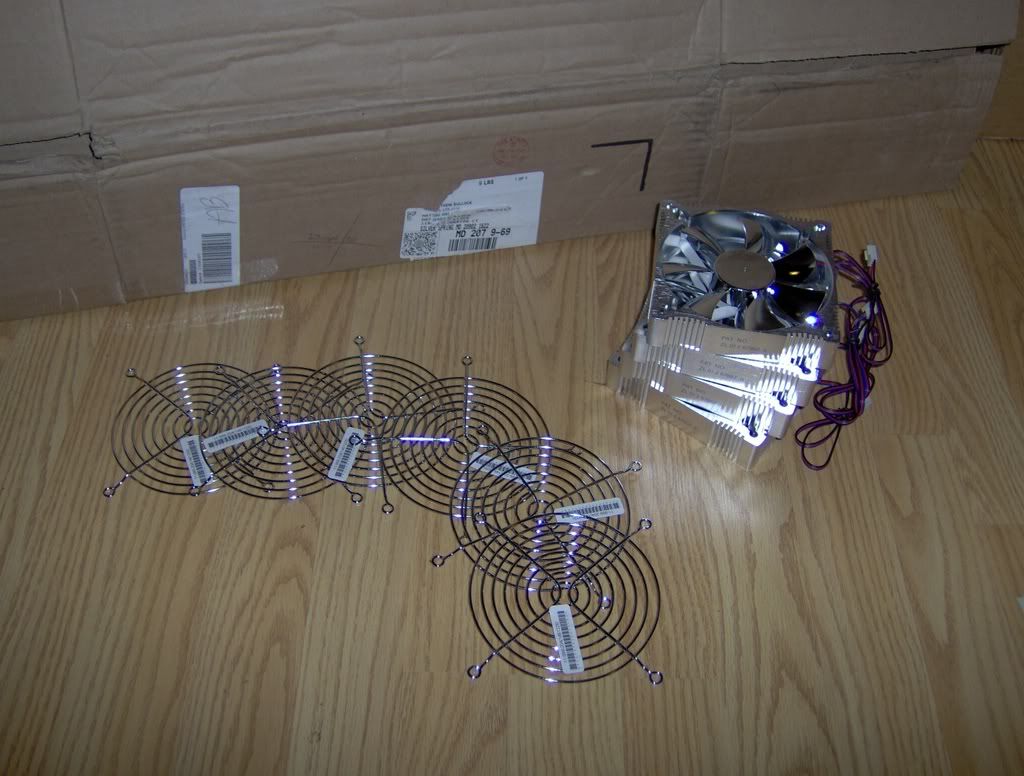 I wrestled with putting in an ODD or bigger rad(s) but after reading through craigbru's
Rogue
and
L.O.S.I.A.S.
, it occurred to me that I could use a slim drive (yeah, yeah, I know..it just honestly never occurred to me), and I took a page out of cases like
this
odd thing, took advantage of the change in case length, and I will be putting it in so the tray comes vertically out the front of the case, which will fit almost perfectly. Eventually I want to put in a slot-loading drive there, but for now I'll be using a slim tray-loader (which also got here today!).
I've got a pretty good idea what I want the inside to be like, but apart from smoothing over the current front bays and logo insets, I have no clue yet what I'll be doing with the outside. Internally, I am a little worried about the airflow, with everything stuffed in the middle, and the power of the pump to push liquid through some of the tight corners that are going to be required with my current design.
Like I said, this is my first real casemod, so any input would be greatly appreciated.
note: The SketchUp model incorporates some parts that I wouldn't be getting right away (mainly, the 3 SSDs), and consists mostly of parts that I was able to find models of, that, while not what I'll be using, are close enough for the purposes of the model.
01-14-2009, 11:49 PM
| | | | |
| --- | --- | --- | --- |
| | Will YOU be ready when the zombies rise? | | |
Re: mightyMite
---
Ok, finally got started on the actual modding today. I cut off the old HDD mount:
before (well, kinda..I forgot to take a pic of it, so I'm holding the mount in place)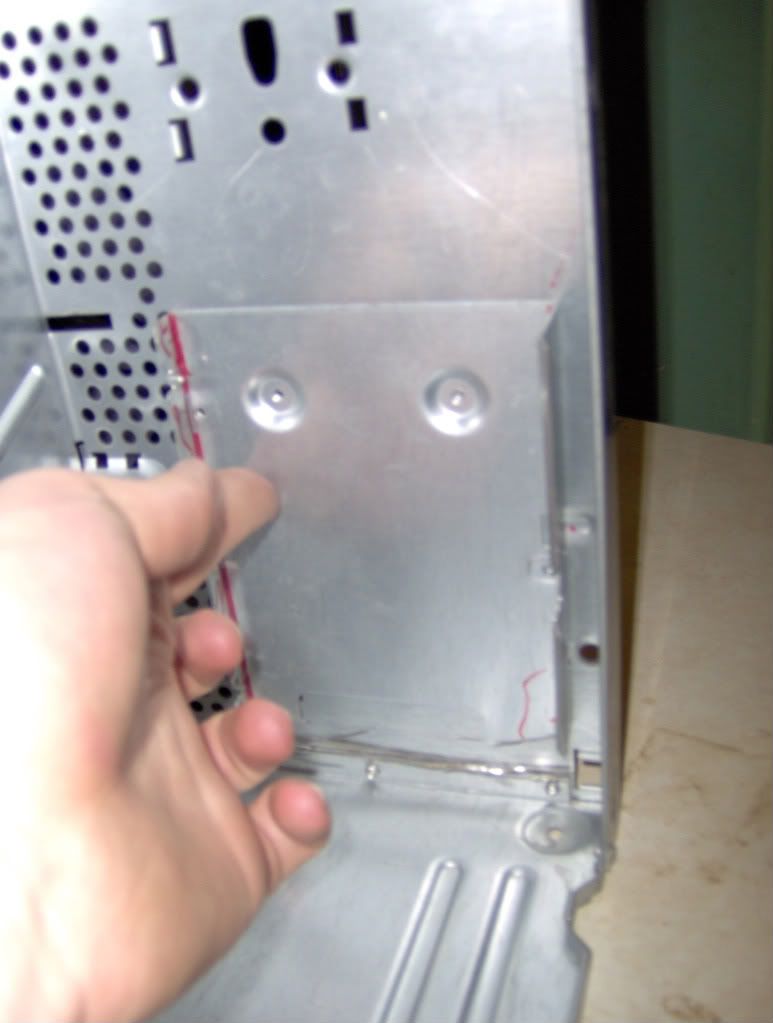 after
I got rid of it for two reasons: 1) I wasn't going to use it in the mod, and 2) it got in the way of my graphics card fitting in :p (eVGA GTX 260 SSC)
I also got the hole cut for the ODD: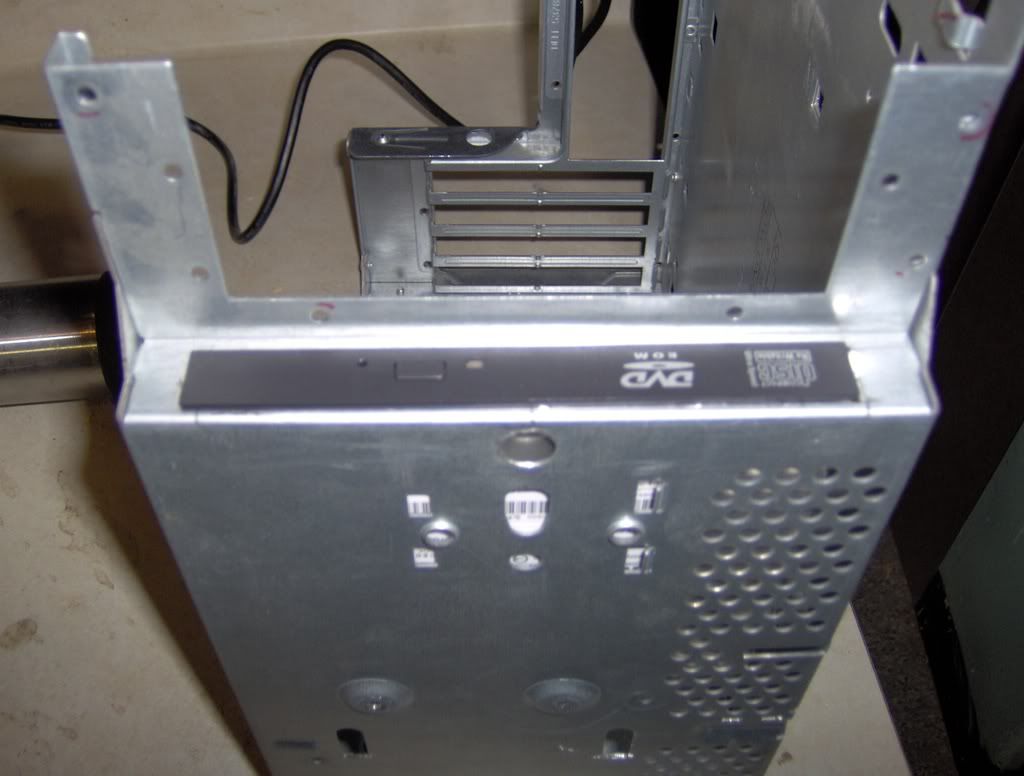 I've also dismantled the computer that's going in here, both for actual dry-fits of the hardware, and also to give me more motivation to work on the mod >_> (posting from my laptop)
On another note, I'm curious. Along the way, I'm going to be removing all of the rivets on the case and replacing them with domed-head hex socket screws with anti-slip nuts...I hate rivets...not sure why, I just do *shrugs* Anyone else out there with an irrational hatred for rivets in their case?
01-15-2009, 05:05 AM
| | | | |
| --- | --- | --- | --- |
| | Vampires are also allergic to bulldozers | | |
Re: mightyMite
---
Looking good and it is off to a very clean start. I am really diggin the vertical mount for the optical drive. +rep for the design and a warm welcome to TBCS.
01-15-2009, 11:38 PM
| | | | |
| --- | --- | --- | --- |
| | Will YOU be ready when the zombies rise? | | |
Re: mightyMite
---
Thanks both, I was a little apprehensive about the vertical drive mounting, but looking at it in place, I think it'll work really well (not as well as it will once I have a slot-loader in there, but hey, what ya gonna do).
I made a little more progress tonight, I got the initial holes cut for the bottom holes: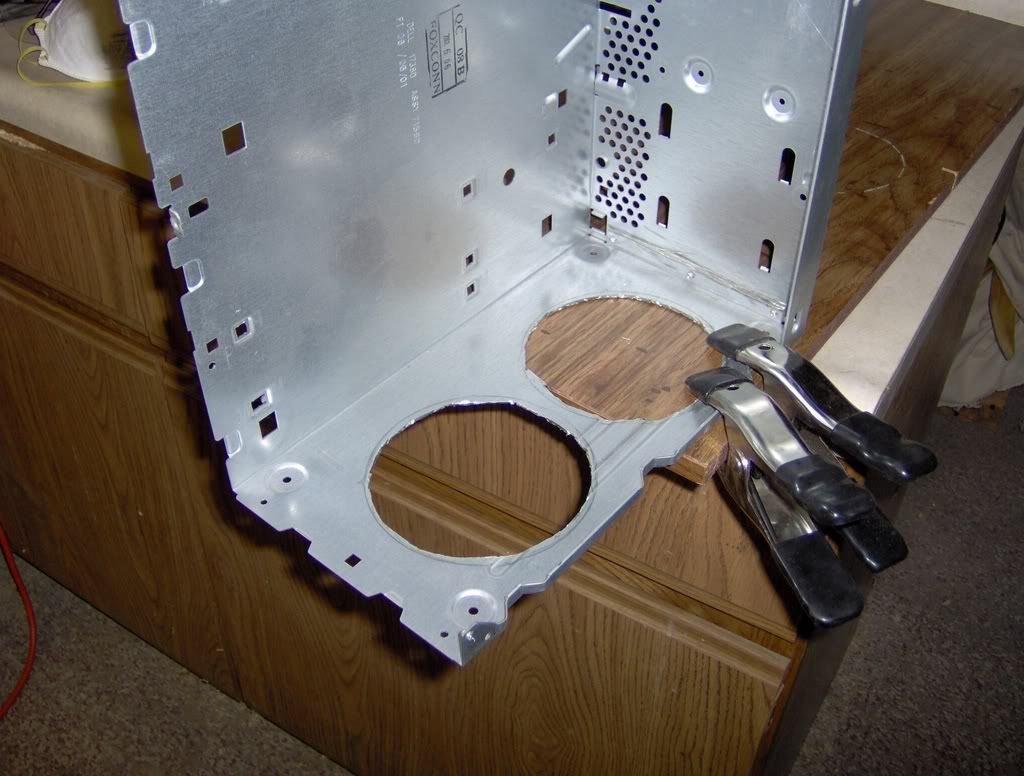 ...and promptly realized that the flat file I have isn't gonna work very well for finishing off the holes...*adds to list of things to buy tomorrow*
(I also drilled out the rivets holding the back panel on)
Also, after coughing up metal shaving this morning...*kicks self for not realizing before starting yesterday*, I went and bought a nice dust mask and safety glasses (which I didn't already have why you ask? well..that is a very good question.)
And surprise surprise, it doesn't hurt to breath this time
Anyways... I'll be out of town this weekend, so I won't be able to get any work done till maybe Sunday night. I did order the screws and nuts for replacing the rivets though. Nice little button-head hex socket bolts with matching lock-nuts
01-16-2009, 03:50 AM
| | | | |
| --- | --- | --- | --- |
| | Project: Elegant-Li | | |
Re: mightyMite
---
I am liking how this started and your preliminary SketchUp. Eagerly waiting for more.
01-19-2009, 11:15 PM
| | | | |
| --- | --- | --- | --- |
| | Will YOU be ready when the zombies rise? | | |
Re: mightyMite
---
Well, I've been away over the weekend, but I'm back now and got some more work done on mightyMite tonight.
Oh, but wait, what's this waiting on my doorstep? Bolts! Yay bolts!
Ok, now on to actual mod work. Tonight I finished off the two holes in the bottom of the case, as before I had just kinda cut rough holes (well inside the circle I wanted) with large fiberglass cut-off wheels.
comparison: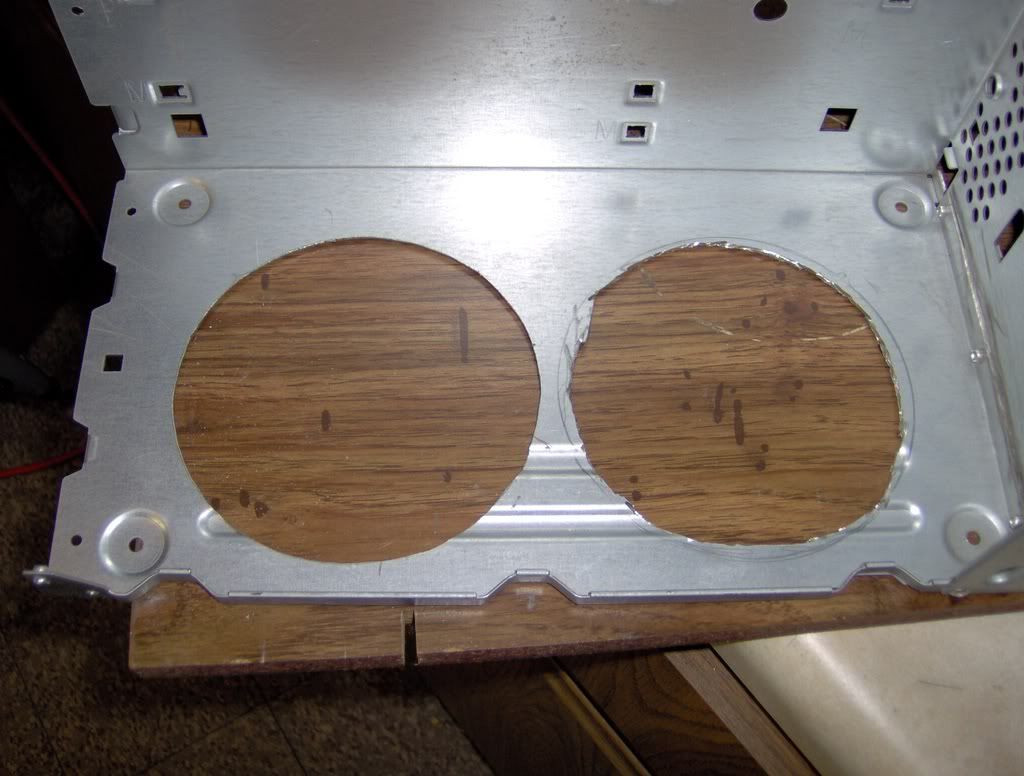 I forgot to grab any pics of the progress on the first hole, but on the second one I got this pic of the process I used. Like I said, I had previously cut smaller, rough holes, so this time I used some thick cutting wheels to cut slots in the hole, radiating out to the hole border I wanted.
like so (sorry, kinda a blurry pic...camera can't seem to focus that close very well):
By the way, anyone out there looking to buy a new dremel, my 300 died recently and I replaced it with an XPR 400. This project is the first I've been able to use it, and I must say, it is
sooo
much nicer to use. I never would have thought something as simple as an on/off switch independent of the speed control would make such a big difference, but it really does. Also, the flex extension is, I think the single best accessory Dremel has ever made
It makes working in confined spaces sooo much easier.
Anyways...
I got both holes cut out: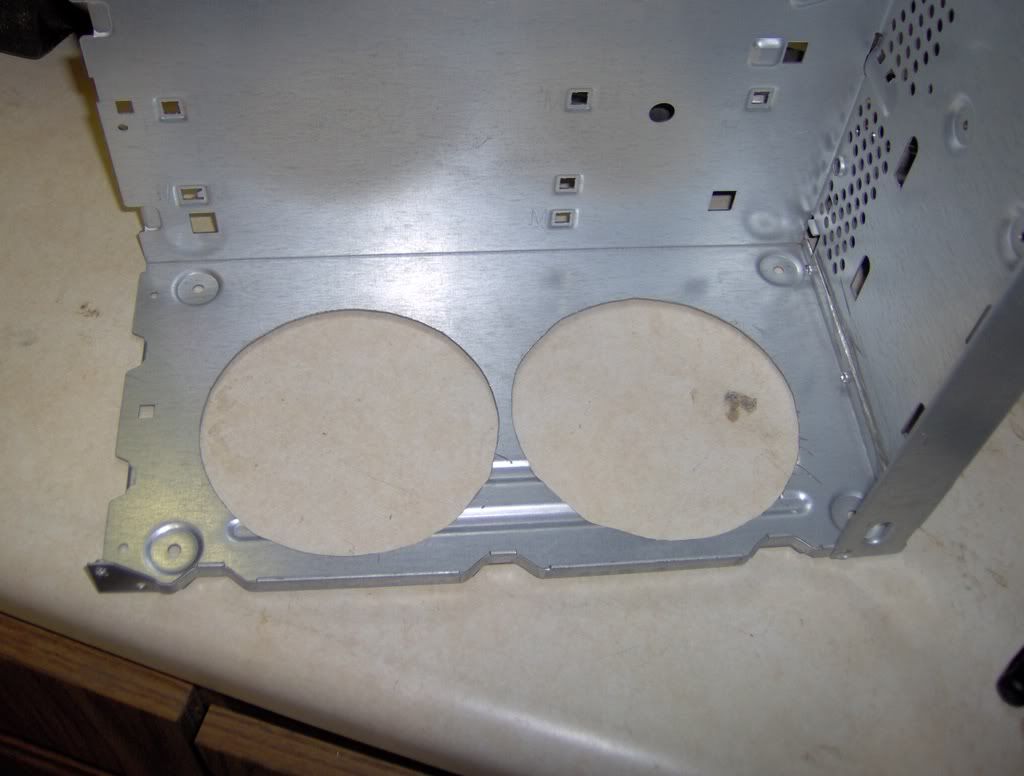 with fans set in place: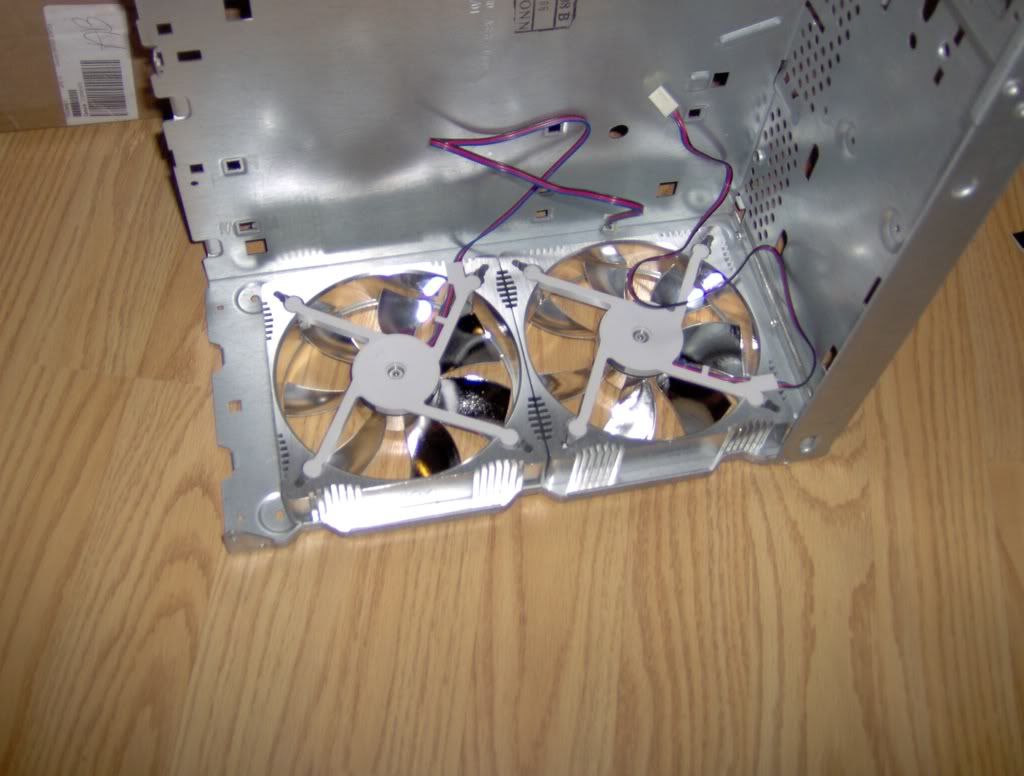 After cutting the holes out with the dremel, I used a big hand file with a curved edge to get it to exactly what I wanted, and a small, straight hand file to smooth out out the edges. I must say, they really turned out a good bit nicer than I thought they were going to.
Well, that's it for now. I will be doing a bit of work on the sketchup model tonight to add in the control panel, so that should be up soonish.
edit: Ok, apparently my laptop's OpenGL settings are screwed up or something, b/c SketchUp keeps crashing...well, tomorrow I think I'm gonna be putting my desktop back together (had it pulled apart to gauge some component sizes) and I'll work on the model then.
01-20-2009, 12:29 AM
| | | | |
| --- | --- | --- | --- |
| | ATX Mental Case | | |
Re: mightyMite
---
project looks promising in these early stages. looking forward to see where it goes =o)
__________________
Project Blue-HellFire
01-21-2009, 11:13 PM
| | | | |
| --- | --- | --- | --- |
| | Will YOU be ready when the zombies rise? | | |
Re: mightyMite
---
As you may have noticed, there's this big hole in the front of the case (almost like they wanted me to put drive there or something...weird
). There's also a bunch of supports that are going away to make room for the radiators, so I figured I'd kill two birds with one stone and just make a solid panel to cover the hole and reinforce the case.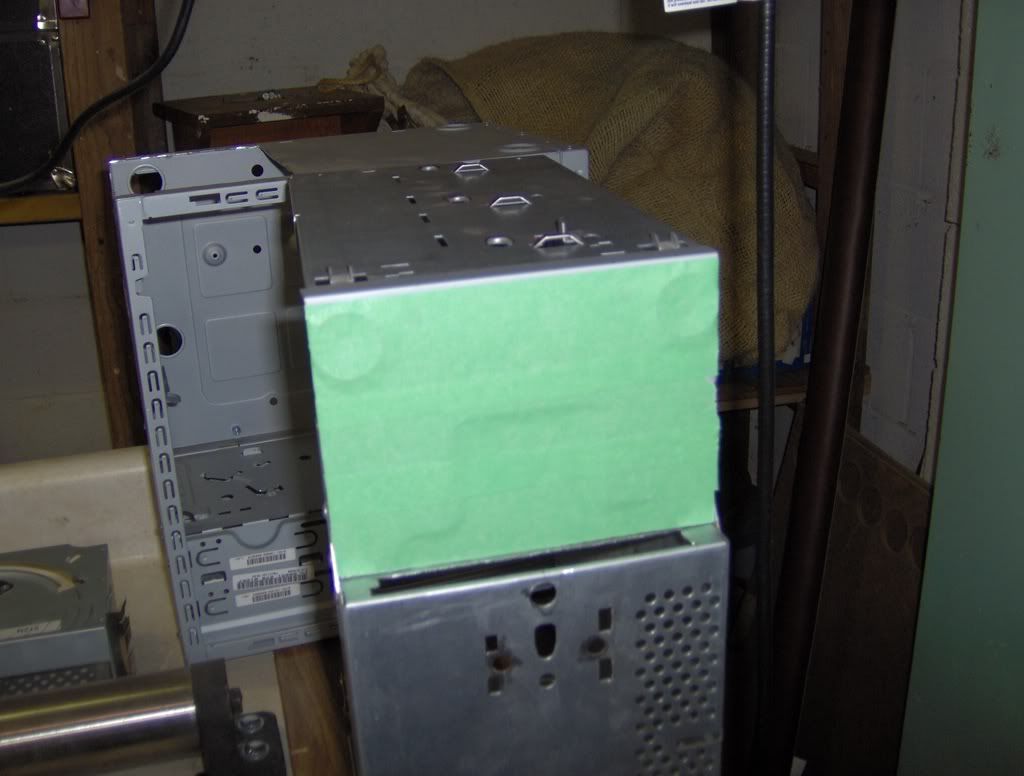 It's already taped off for tomorrow I'm gonna start filling holes with JB-Weld. If it works well on that panel, I'll use it to fill in all the old ventilation holes in the chassis. If not, I'll go get some body filler for that.
01-22-2009, 06:50 AM
| | | | |
| --- | --- | --- | --- |
| | A big old Tease Apparently | | |
Re: mightyMite
---
coool nice work good start
| | |
| --- | --- |
| Posting Rules | |
Powered by vBulletin® Version 3.6.8
Copyright ©2000 - 2013, Jelsoft Enterprises Ltd.
thebestcasescenario.com