Follow Us On
---
[Review] Azza Fusion 4000
Welcome to the TBCS Community Forums forums.

You are currently viewing our boards as a guest which gives you limited access to view most discussions and access our other features. By joining our free community you will have access to post topics, communicate privately with other members (PM), respond to polls, upload content and access many other special features. Registration is fast, simple and absolutely free so please, join our community today!

If you have any problems with the registration process or your account login, please contact contact us.
07-09-2012, 06:20 PM
| | | | |
| --- | --- | --- | --- |
| | Its not cool till its watercooled. | | |
[Review] Azza Fusion 4000
---
Fusion 4000
Introduction
The Azza Fusion 4000 is a monster of a case. By far, the largest tower case I have ever seen. The case is so huge, it can hold 2 completely separate systems or it can hold one massive one. It has the main compartment, which can hold up to an XL-ATX motherboard and a second compartment above the main one which can hold an Mini-ITX board or be used as a radiator box. I'm going to show you what it would look like to do both!
Packaging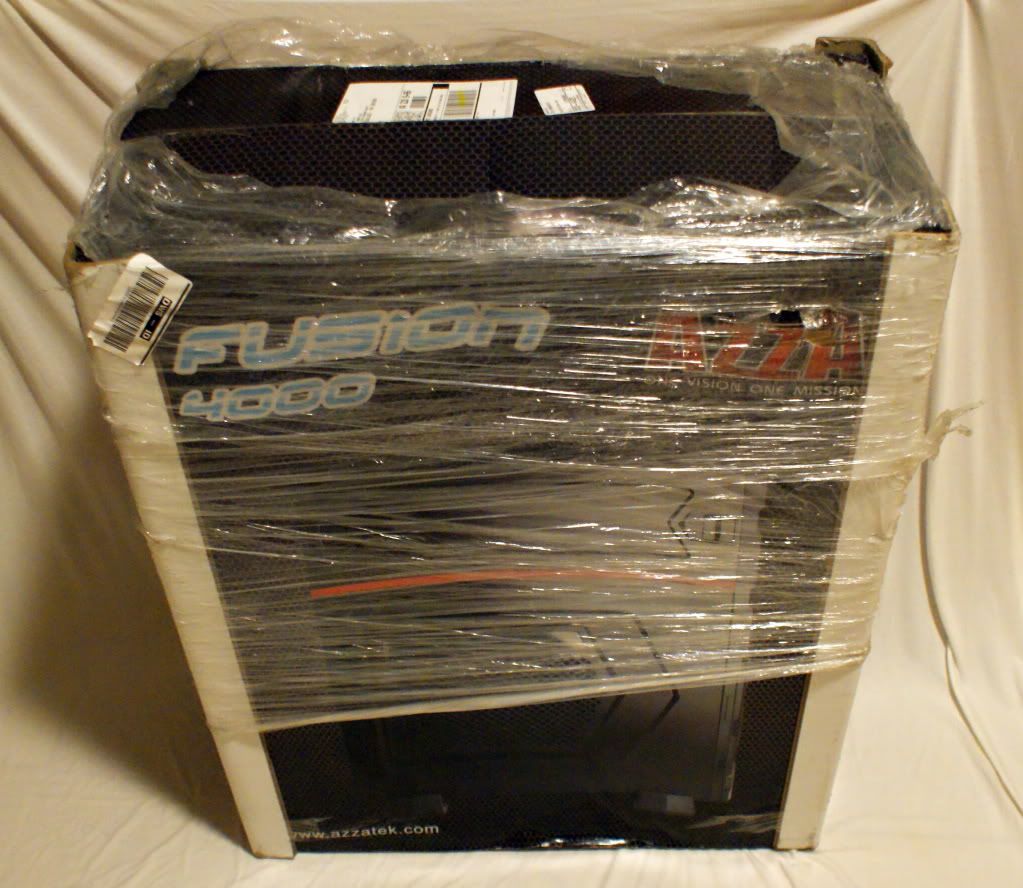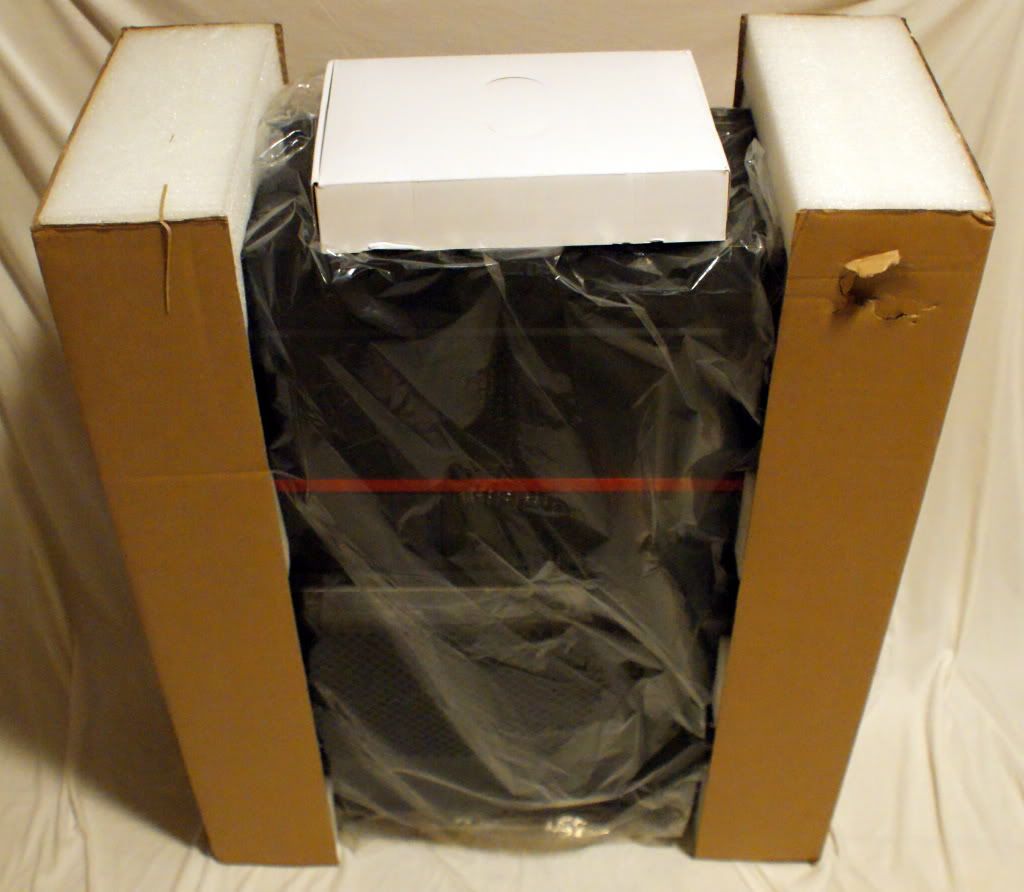 The box was a standard dual-walled cardboard box but the difference in this box was the hardened corner supports that were attached to it. Normally the case box is inside of a shipping box. Because Azza did not do this the box suffered some damage but the reinforced corners deffentelty helped. Once inside the box you can see that the case is wedged between 2 closed-cell foamed end pieces which are in turn, reinforced with cardboard. The case itself is wrapped in a thick plastic bag which kept it from getting scratched.
Specifications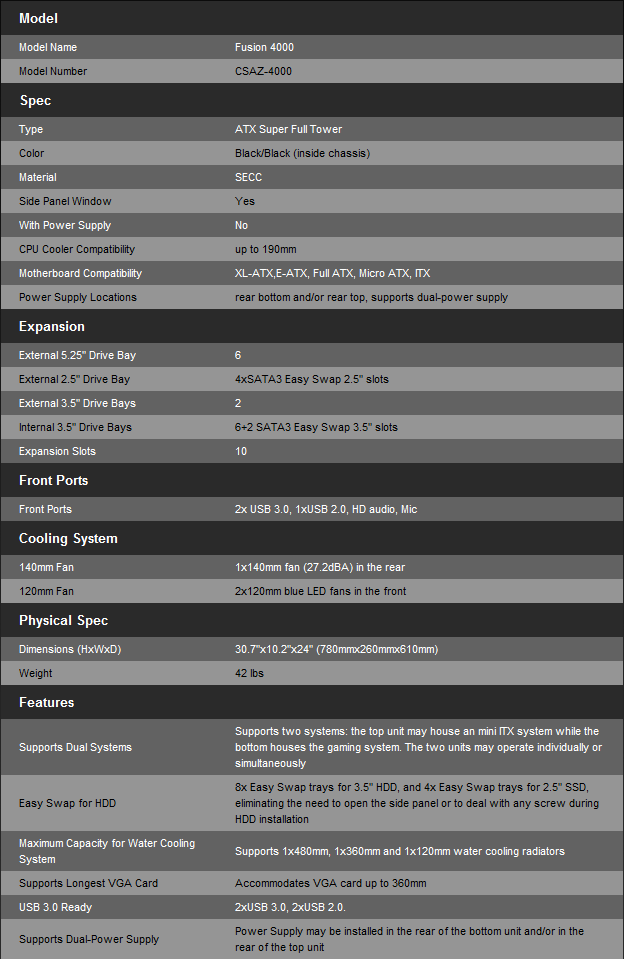 A Closer Look
At first glance I was very impressed with the case. It is mainly black with red accents throughout the case. But before we look at it more, lets see what Azza sent us with the case.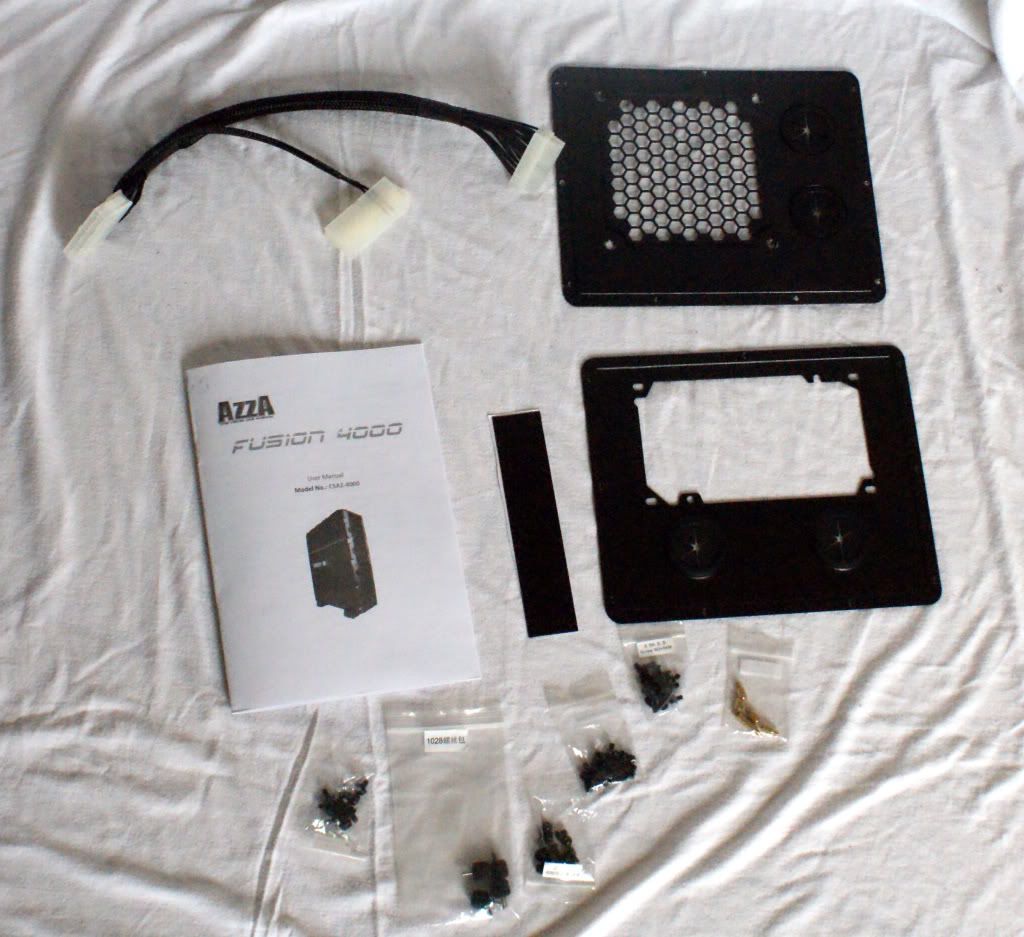 Ever case comes with a few parts and screws, this case comes with a lot. You get a dual PSU power converter cable, a bag full of screws which has 124 screws in it and some zip ties, 2 additional back plates for the top compartment, a top unit I/O membrane cover, 2 case feet and of course, the manual. I am surprised at how man cases actually do not come with a manual but the one that comes with the Fusion 4000 is a great guide. It walks you through how to install pretty much everything in the case.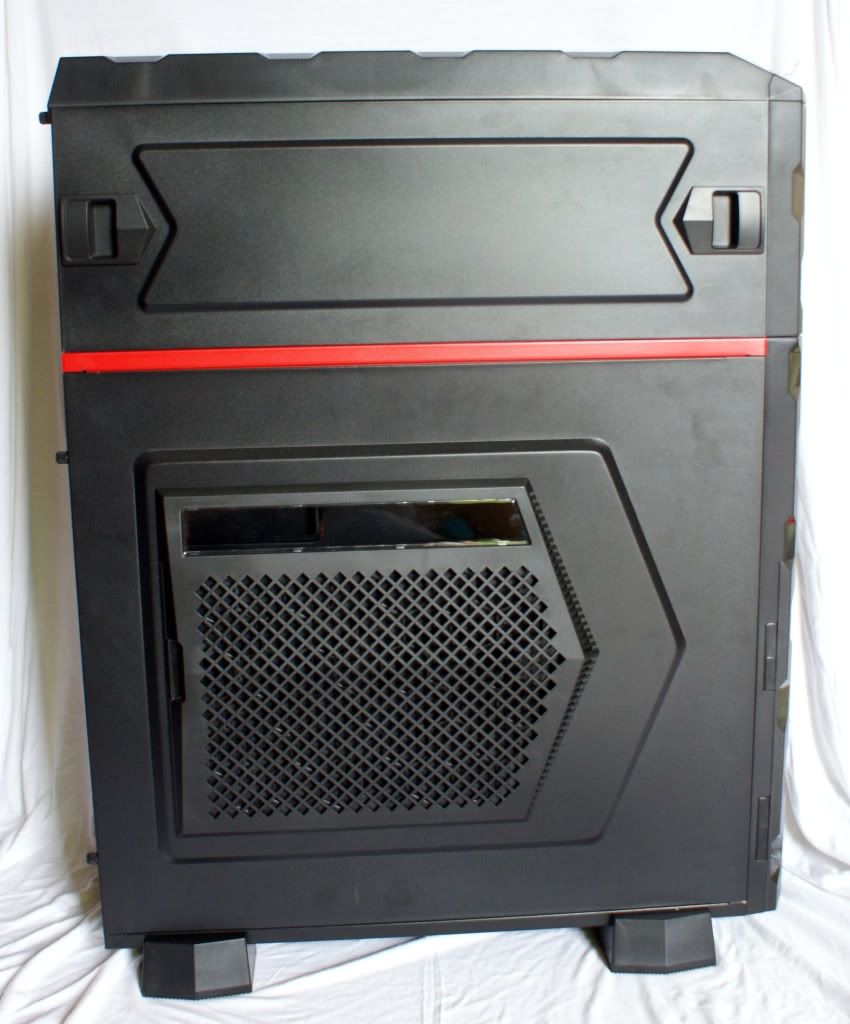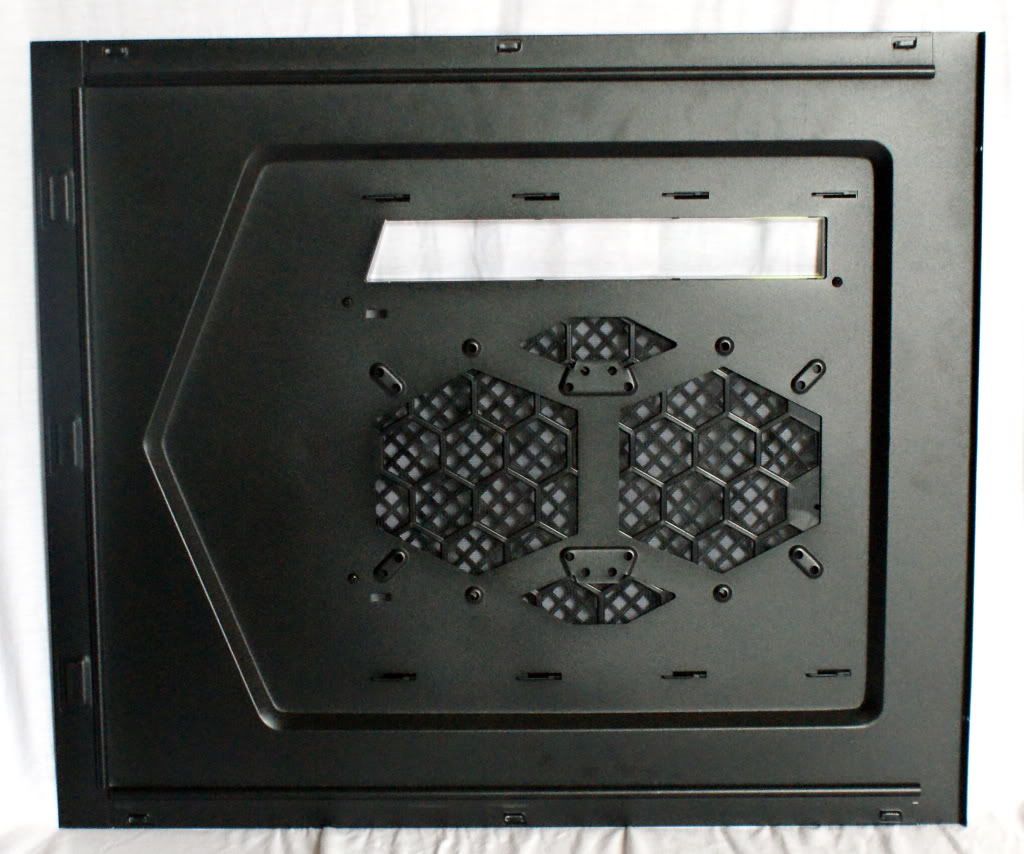 The side panel has a very small window in it which is above a very large looking vent. After removing the vent with 4 screws you can see there are mounting points for several different size fans. You can mount either (2) 120MM, (2) 140MM or (1) 230mm fans in it. The panel also features a removable dust filter which will save lots of time when cleaning the case.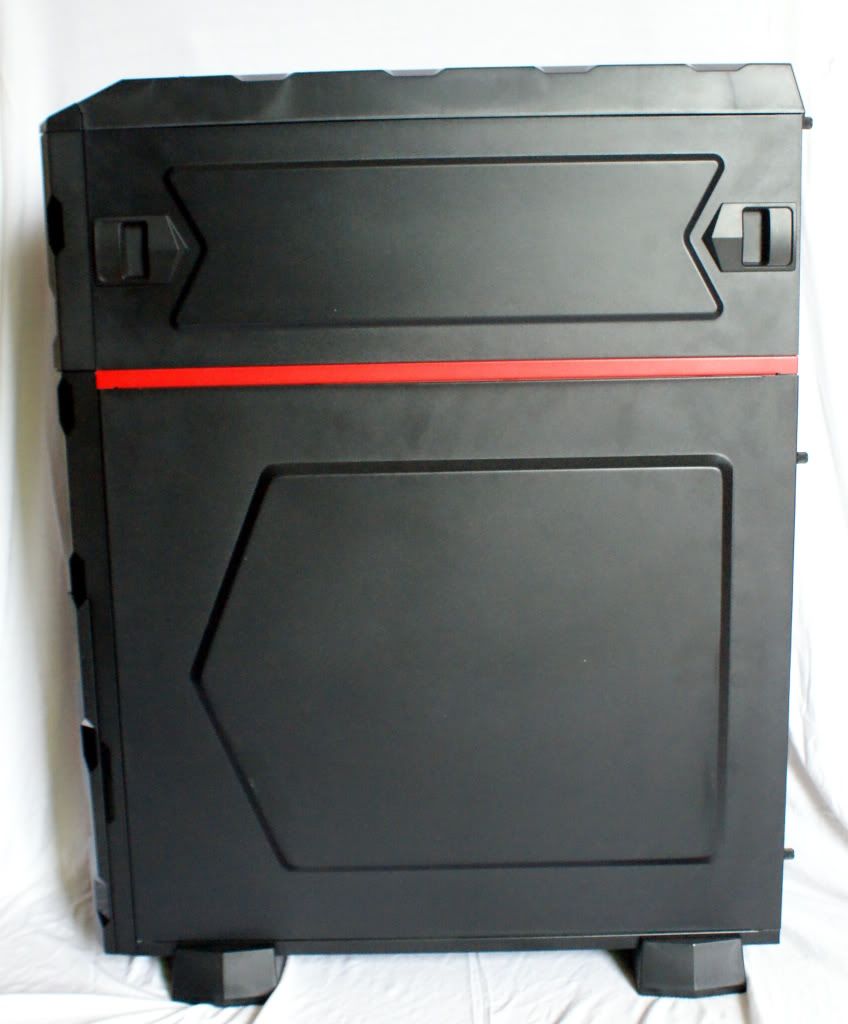 The back side panel has a very large 5mm expansion which makes cable management a breeze. This additional space gives you a total of 25mm behind the motherboard tray for cables.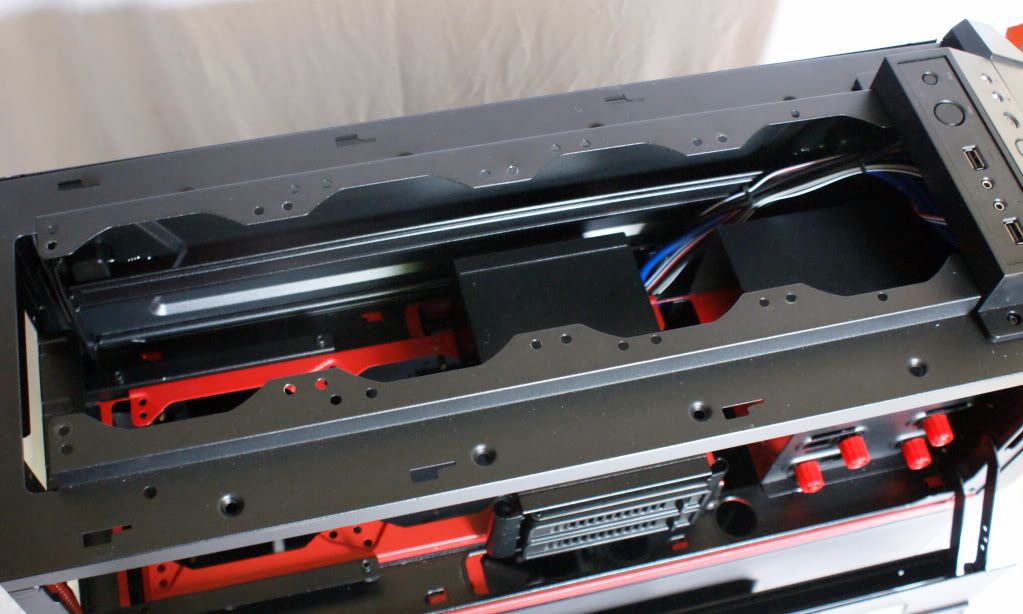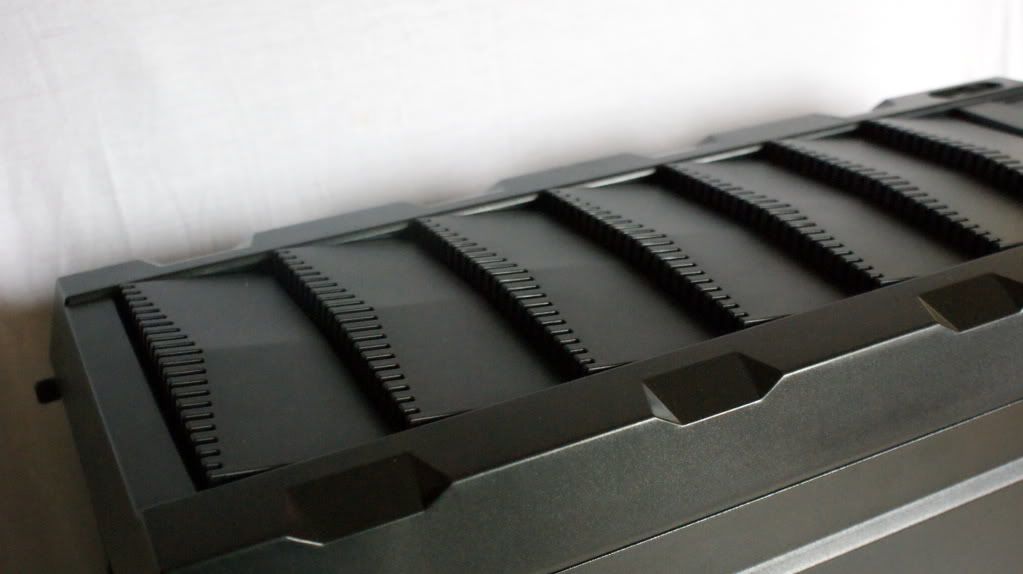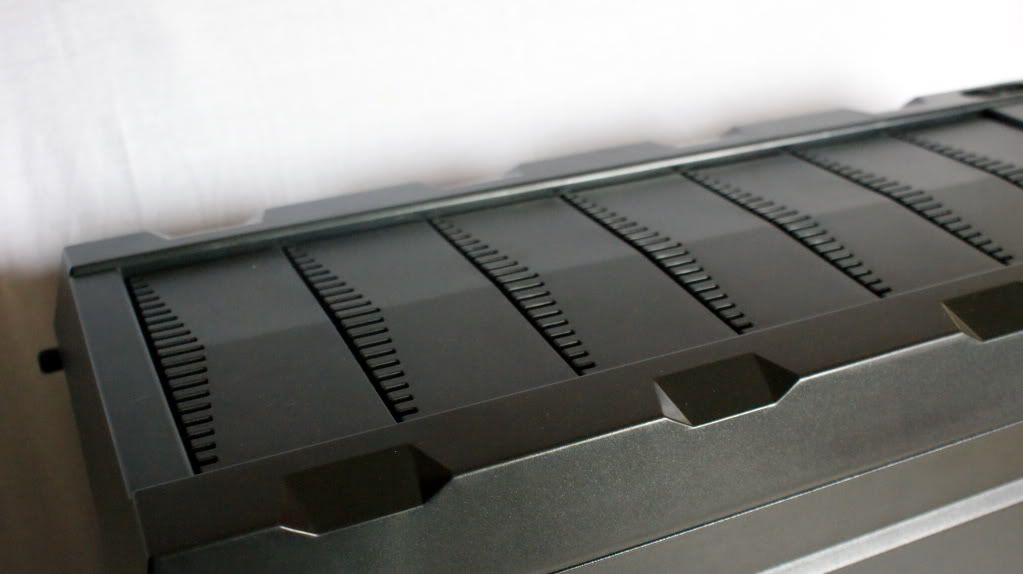 Looking at the top of the case you can see it has louvers for your air flow. You can close them and greatly decrease the sound of you fans or leave it open to allow more airflow in to the top section. These are a great feature if your looking to build the "silent" PC.
There are 2 thumb screws that hold the top panel on. Just take them out, slide it back and it comes right off. Once it is off you can see there are tons of mounting holes. You can mount up to (4) 120mm, (3) 140mm or (2) 230mm fans. That means up to a 480mm radiator can fit in the top of the case! That's huge! I can only name a handful of cases that can handle a radiator that big and still have room to run it with a push/pull config.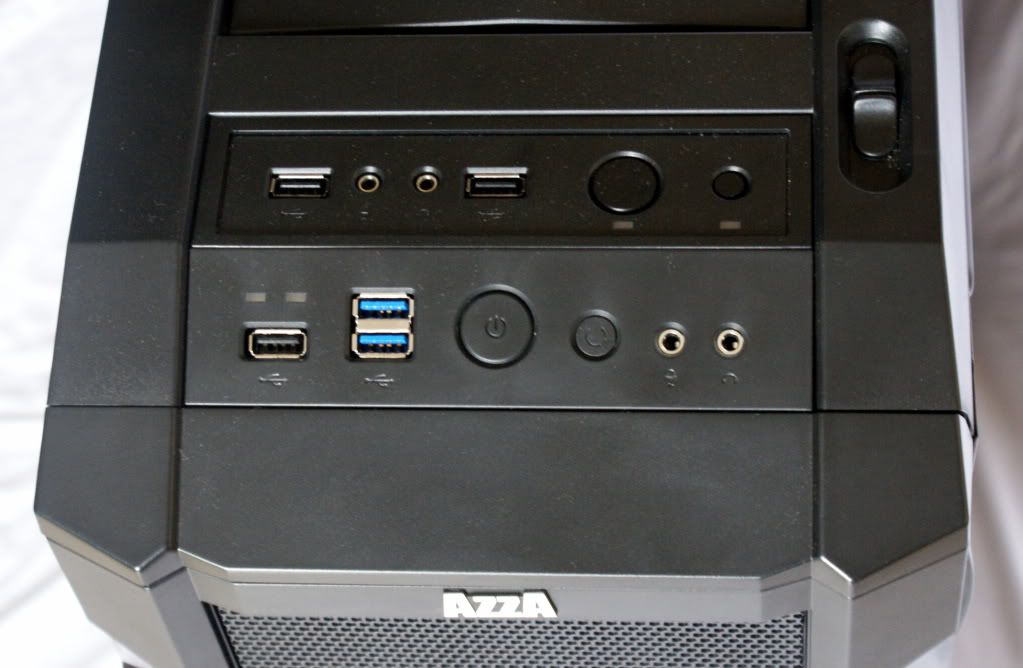 At the top of the front panel is the I/O panel. But wait... there are 2 of them?!?! That is because the one at the bottom of the picture is for the main compartment system and the one above it is for the Mini-ITX system.(If you use it. If not, you can use the "Top unit I/O Membrane cover" to hide it away)
The main unit I/O panel features a single USB 2.0 port, (2) USB 3.0 ports, power button, reset button, headphone and mic jack. The top unit I/O panel features (2) USB 2.0 ports, headphone and mic jacks, power and reset buttons.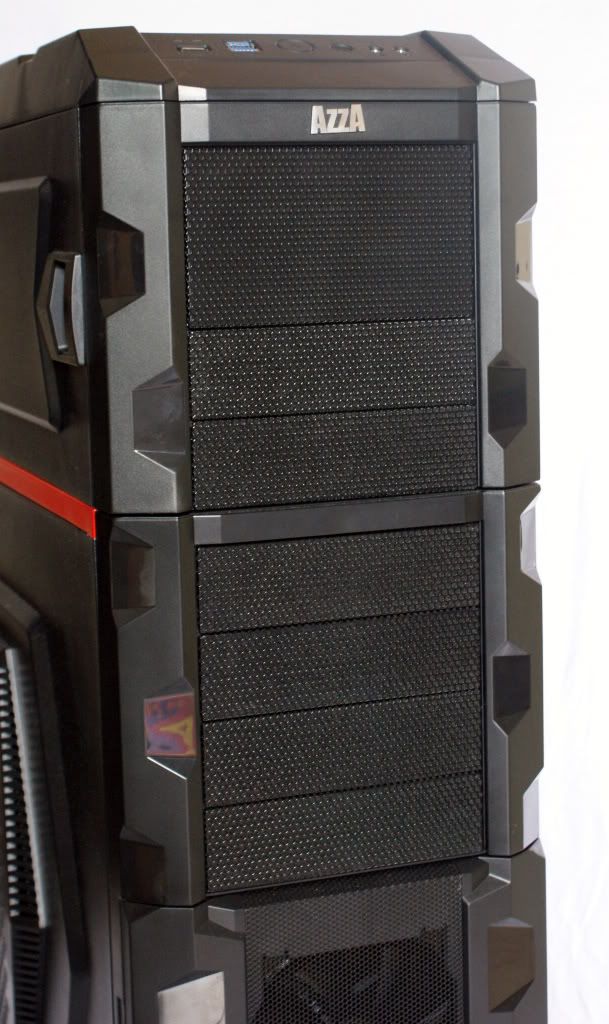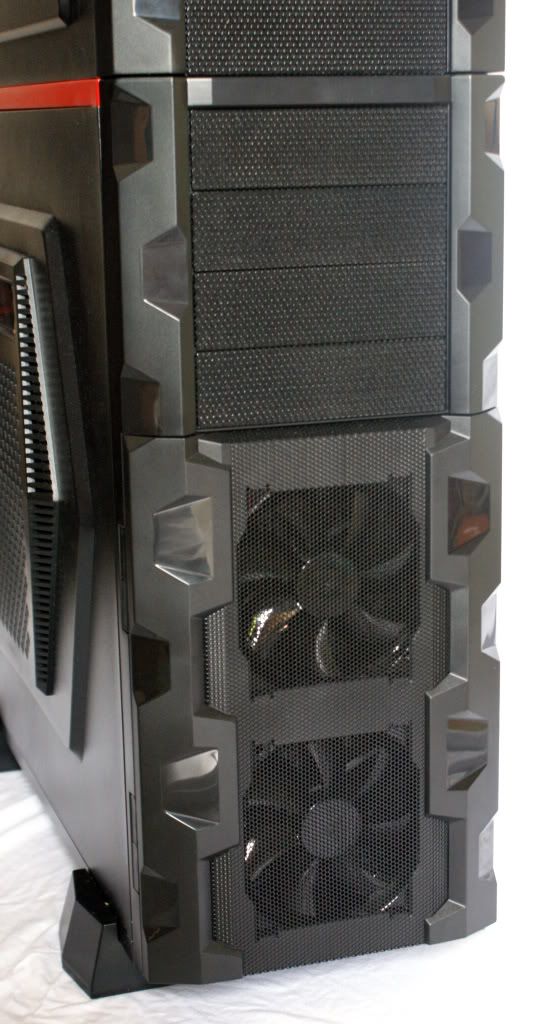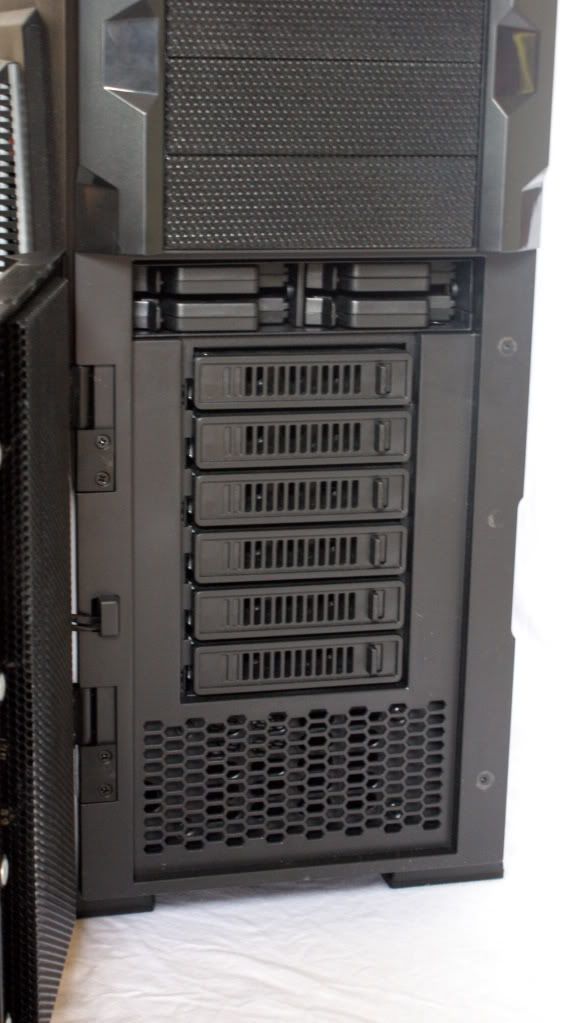 Moving down the front of the case, you will see (2) 5.25" bays for the top compartment and (4) 5.25" bays for the main compartment. Further down there is a door hat hides the HDD/SSD hot swap bays. The door is fitted with (2) 120mm blue LED fans. I am unhappy with the blue LEDs because the case has red accents and it does not match at all.
Once the door is open you can see (4) 2.5" hot swap drive bays and (6) 3.5" hot swap drive bays. Below the 3.5" bays are 2 more 3.5" bays but they can only be accessed on the inside of the case.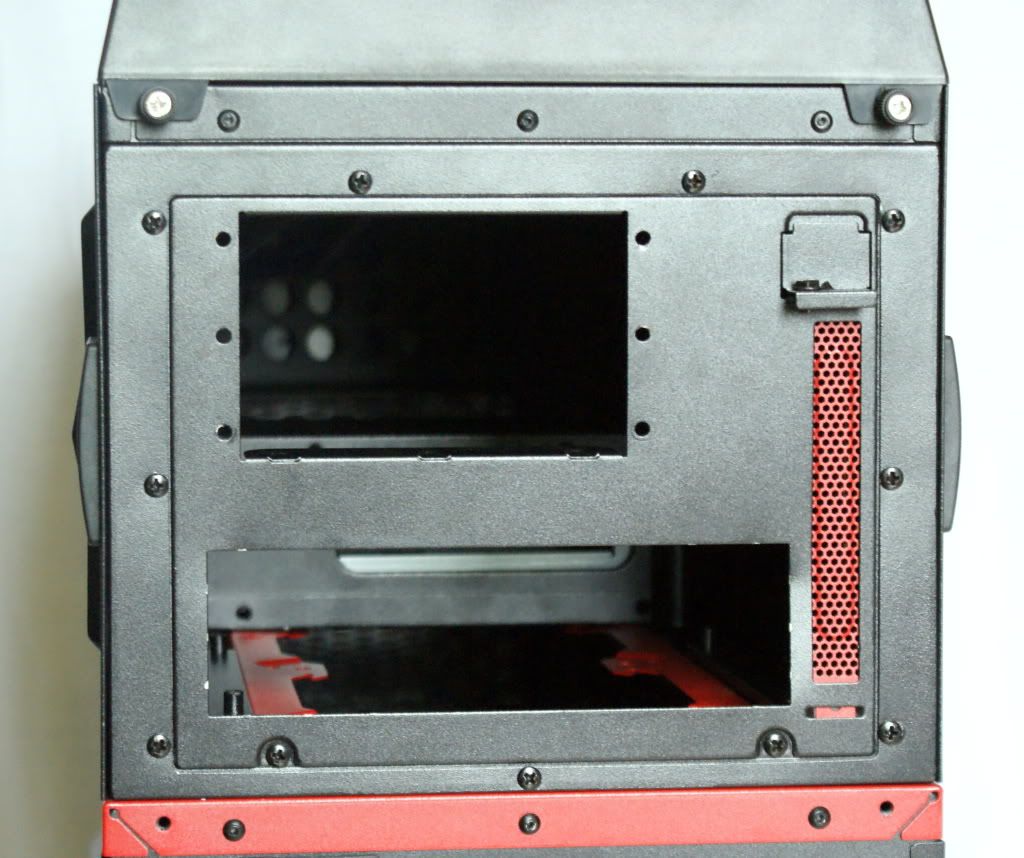 Moving to the back of the case, at the top, you have the Mini-ITX panel installed. This can be interchanged for 2 different panels. One that has the mounts for a second PSU and 2 watercooling holes, and the other has a grill and holes for a 120mm fan and also has 2 watercooling holes.
To replace the rear panel, all you have to do is remove the 11 screws and remove the 4 thumb screws that hold in Mini-ITX mounting rails.
With the Mini-ITX panel installed you will need a Micro-ATX PSU to fit in to the PSU hole. I wish that there was a blank to put in there because I'd rather use a Pico-PSU. You also have an expansion slot if you want to use an add-on card or a dedicated GPU. Something to note, If you are using the Mini-ITX panel, and you are watercooling the case, you can not have a fan on the last 120/140 spot on the radiator. So all you can do is either push or pull on the radiator. With the 120mm fan panel installed, you can do push pull on any size rad you put in. Now if you use the dual PSU panel, you can not do push/pull on the bottom radiator because the PSU is in the way. You'll see later once I install the systems.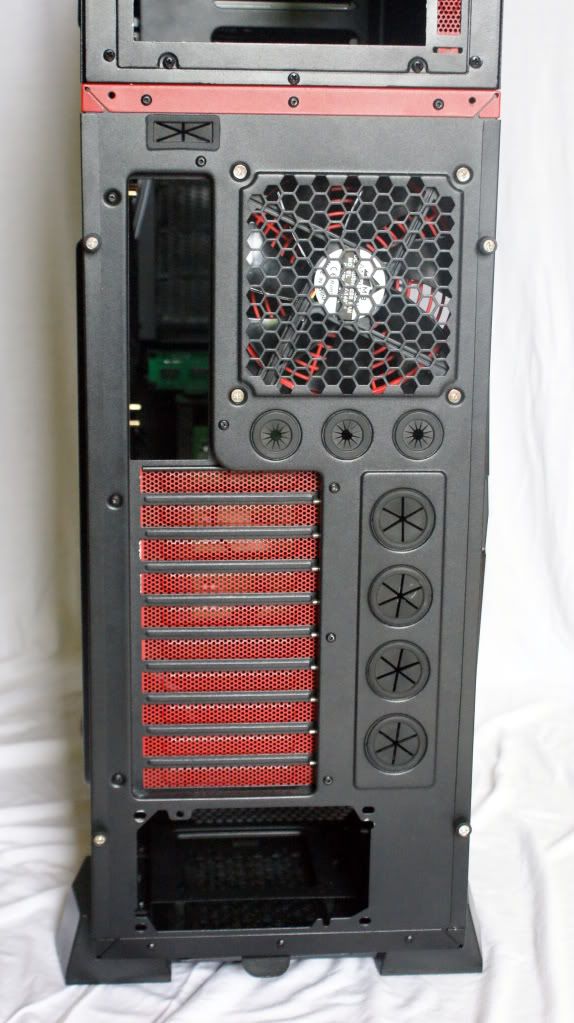 Now for the back of the main compartment. The first thing you notice is the 10 expansion slots, the 7 watercooling holes and the 140mm fan. This case truly gives you a ton of options when it comes to watercooling.
Now lets go inside the top compartment.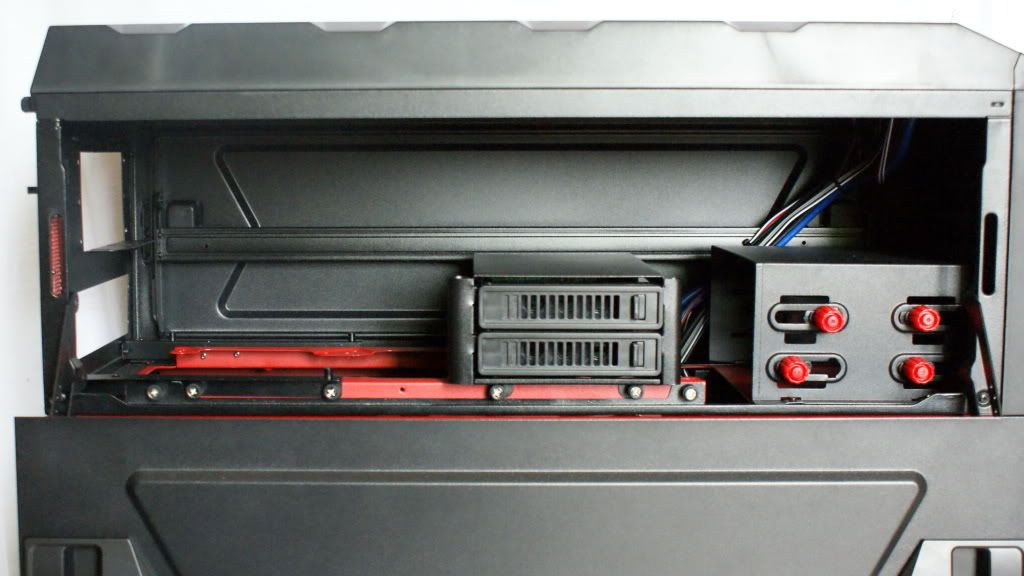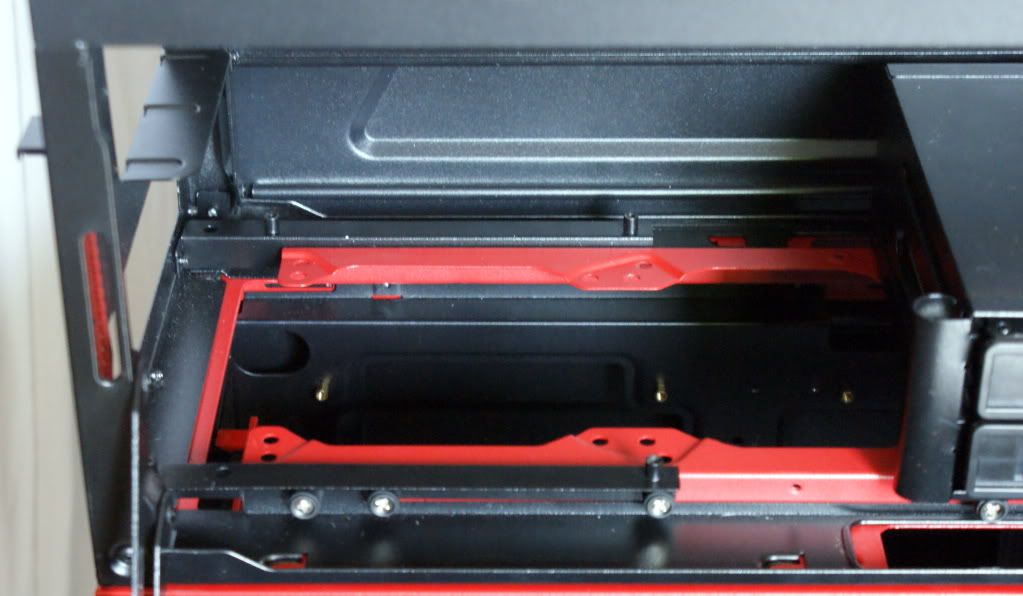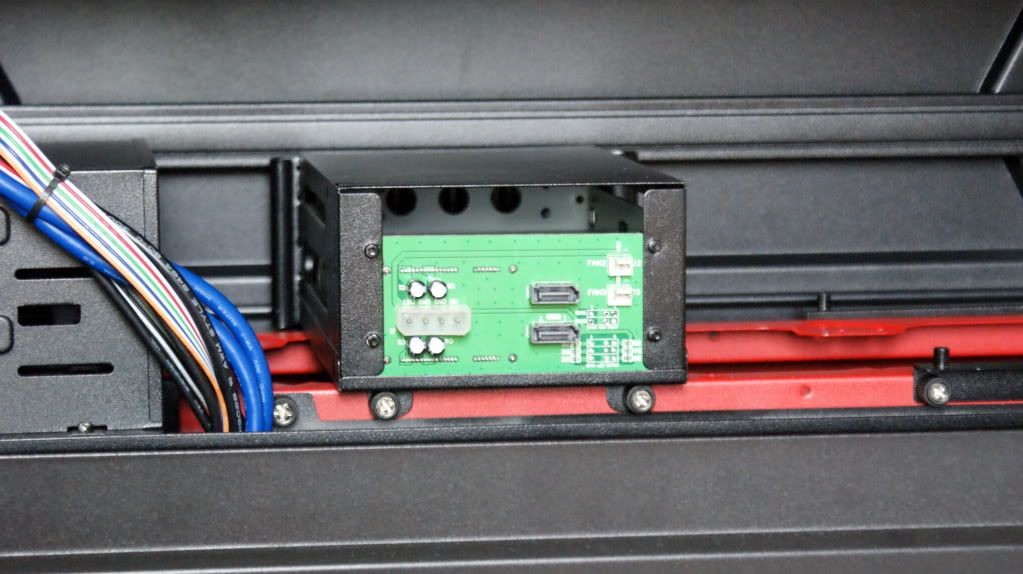 To get into the top compartment all you need to do is pull in on the 2 tabs and the door will swing downwards. Once its open you will see the (2) 5.25" bays, (2) 3.5" Hotswap HDD cage and the Mini-ITX motherboard mounting rails. Under all of these components, there is a mounting area for up to a 360mm radiator. On the back side of the HDD cage you see a PBC that has (2) SATA ports, (1) 4 pin Molex connector and (2) 3 pin fan connectors. It would be nice if there were more fan connectors here since the top of the case can take up to four 120mm fans.
Its easier to see and have access to the middle radiator mounts from the top of the bottom compartment.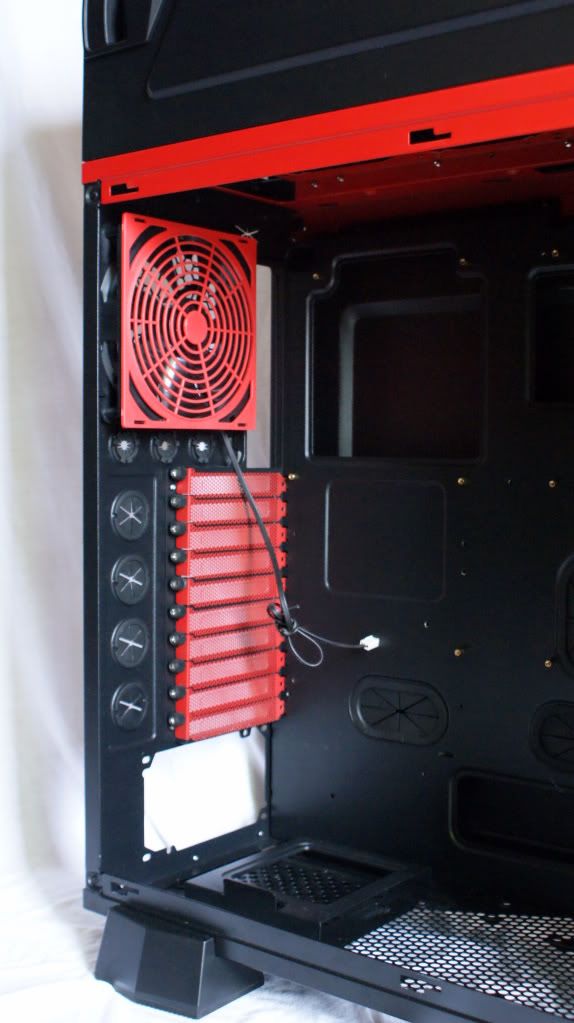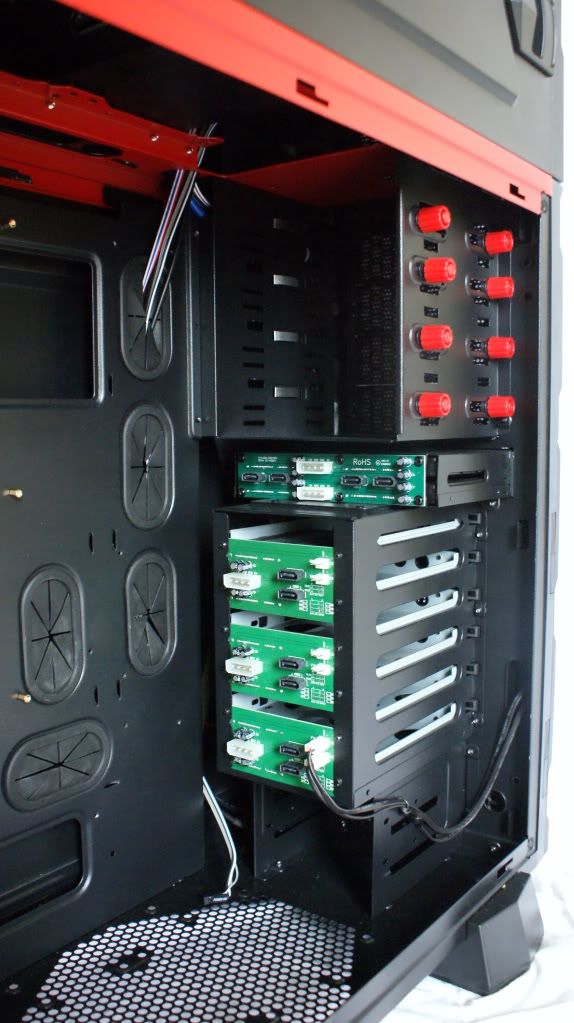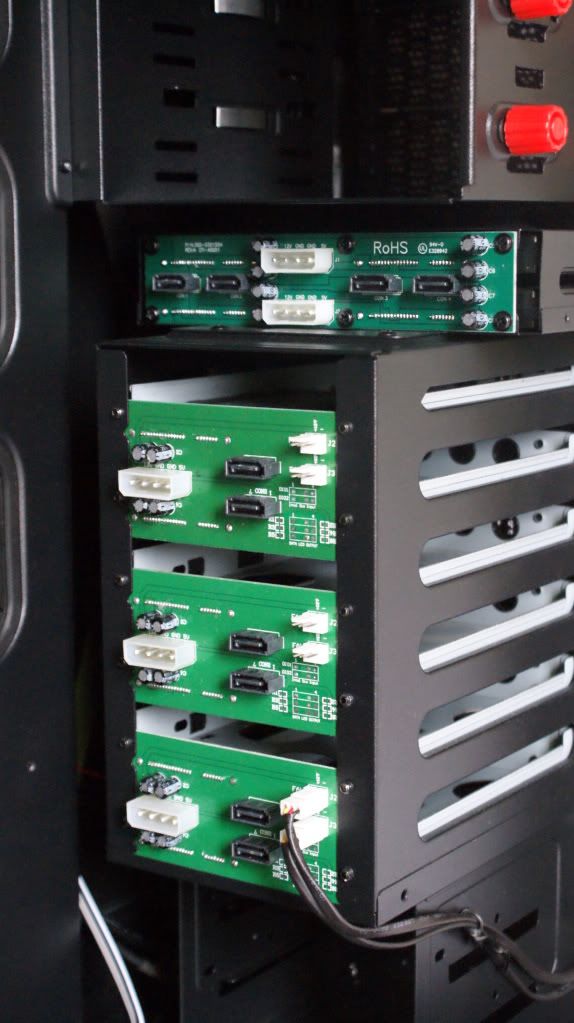 Moving inside the main compartment you will notice that there is a ton of room in there. Just look how huge the CPU cutout is! You can fit up to a XL-ATX size motherboard which can't be said for too many cases. The back has the 140mm fan, (10) expansion slots, and ()7 watercooling holes. In the front, you can see 4 PBC boards. The top one is for the (4) 2.5" and has (2) molex connections and (4) SATA ports. The next 3 PBC board are all the same as the one that was on the back of the HDD cage in the top compartment.
At the bottom of the case you can see there are some mounting holes. You can mount up to (2) 120mm, (1) 140mm or (1) 230mm fan. I would be really nice to be able to fit a 240mm radiator there but with the HDD cage and the PSU connections its not possible. You could maybe fit a 120mm radiator but it would still be tight. Under the PSU you can see the removable filter.
Now that I have shown you all the parts to the case, lets get some systems installed!
Installation
First up is Air Cooling.
Main Compartment System Specs:
MSI 890FXA-GD70
AMD FX-8120
16GB DDR3 Corsair Dominator
2x Galaxy GTX 460 GC
128GB Crucial M4 SSD
Sparkle 1250W PSU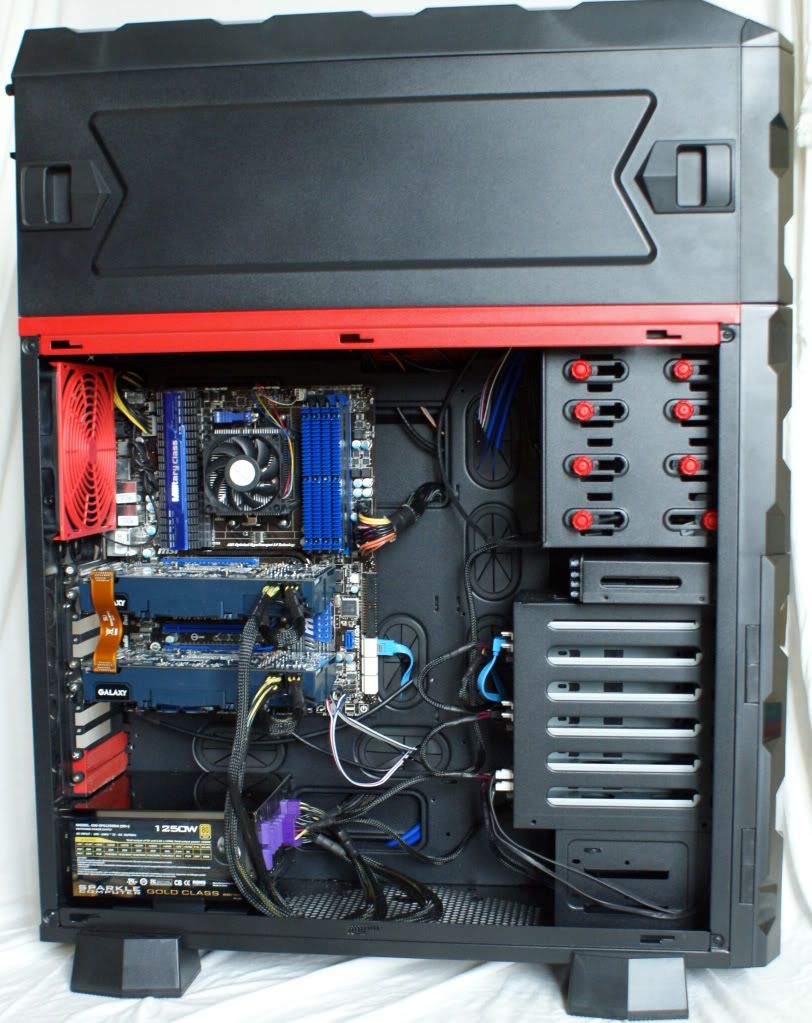 Installing the main system was a breeze. There is so much room in the case you have no excuses if your having a hard time. For those of you with HUGE GPUs, you can fit a GPU up to 360mm long. You can't see them but I added 3x 120mm fans to the middle radiator mount which pull air up into the top compartment. I also put 2x 140mm fans in the door that pull air into the case, directly onto the GPUs.
Here you can see the cables behind the motherboard tray. There is 20mm of space for cables and with the door on there is 25mm of space.
Top Compartment System Specs:
Intel DH61DL
Intel i5 3120
4GB DDR3 Sector 5
320GB Western Digital HDD
Logisys 350W Micro ATX PSU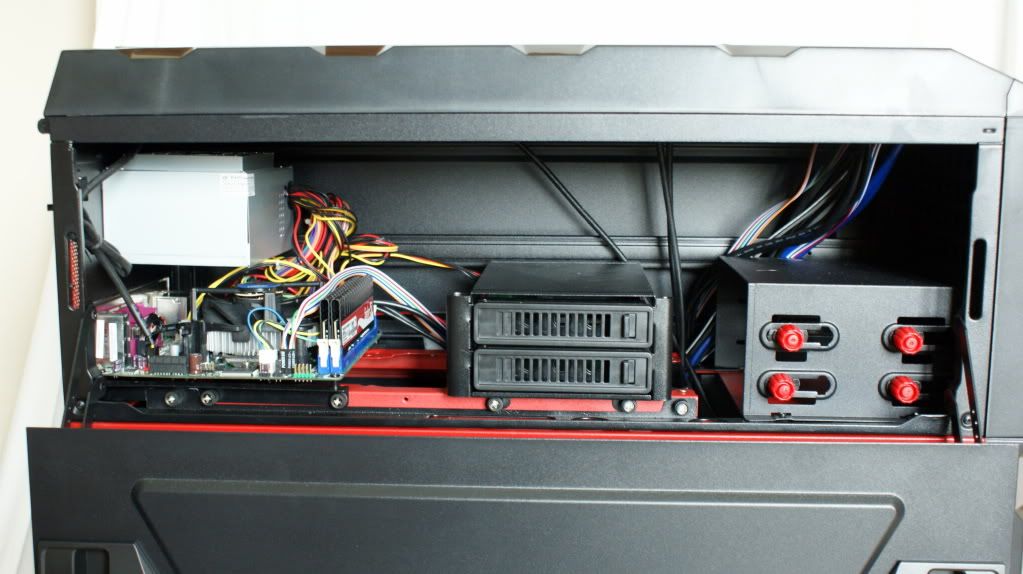 The top compartment was a wee bit harder. You must take the top panel off and not have any fans installed to be able to fit a screw driver in to mount the motherboard. The PSU was a challenge for me because the 4 pin CPU power connector was directly underneath of it, so I had to connect that first, then feed the PSU in and mount it. There is no extra space for the extra PSU cables which is kinda rough. I may have been able to feed them all down behind the motherboard tray but it would be really tight. Again, you can't see them, but I mounted 4x 120mm fans into the top of the case which pulls air up and out of the case.
Now for what you have all been waiting for. The water cooling setup. I chose to only water cool the main compartment system but it would be very very easy to include the top compartment system CPU and/or GPU.
Water Cooling System Specs:
Swiftech MCP655
EK-Multioption 250
2x Swiftech MCW60 Universal GPU blocks
OCZ Hydroflow HF-MK1
XSPC EX360 Multiport
XSPC EX480
Bitspower 1/2" Barbs
Bitspower 90 Degree Rotary Fittings
Bitspower 45 Degree Rotary Fittings
XSPC 10mm Male/Male Fitting
Clearflex 1/2ID 5/8OD Tubing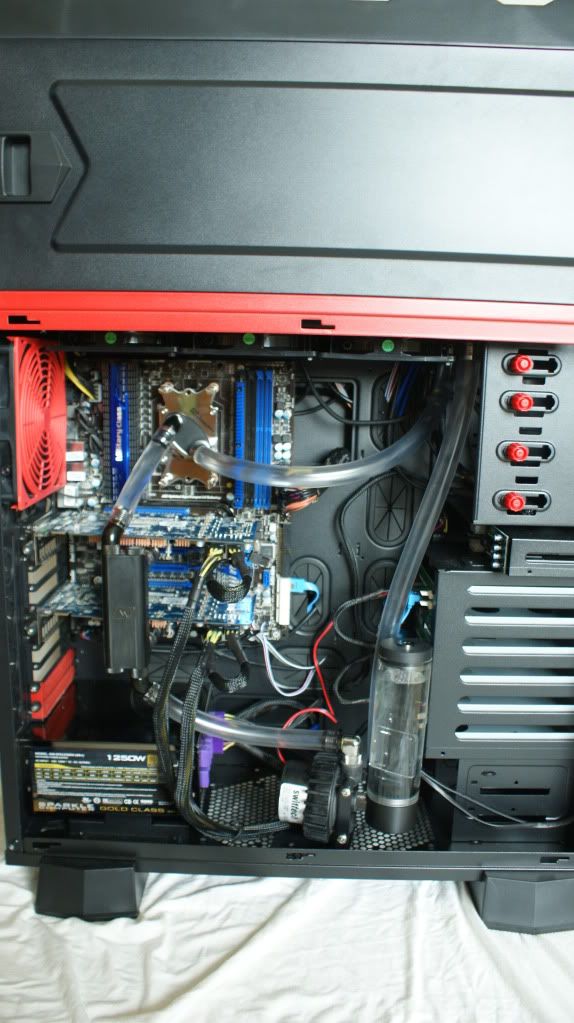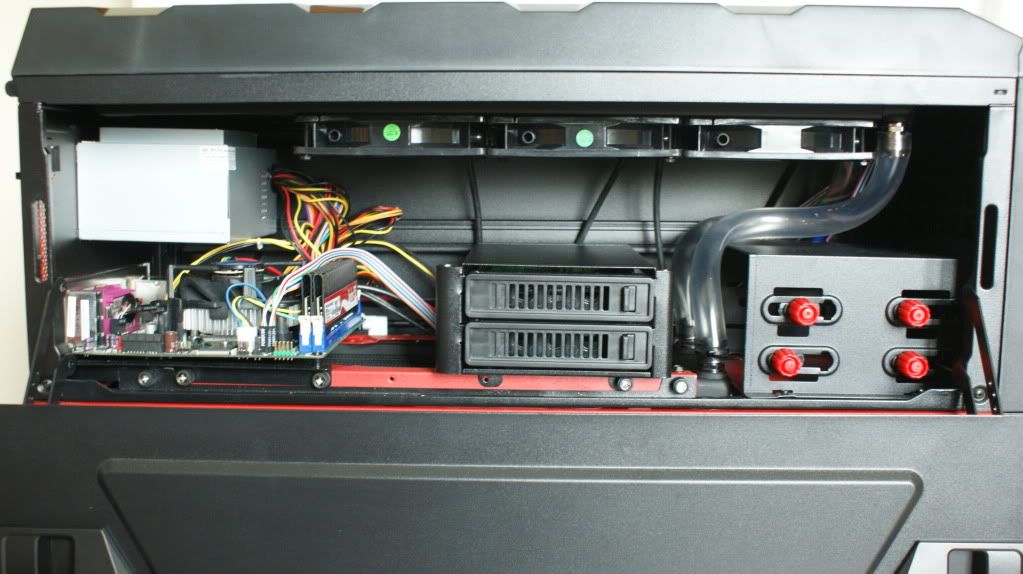 Again, you can see how much space really is in this case. I was easily able to install this setup. The key to a clean loop in this case is the XSPC EX360 Multiport radiator. This enables me to run the top two radiators in parallel rather than series. Due to having 2 systems in the case I was only able to run each rad with 1 set of fans and if you look carefully, you can see that the last 120mm fan on the EX480 radiator is missing. There simply isn't enough space to run a push/pull setup with 2 systems installed. If you remove the ITX setup, motherboard rails, HDD cage and add the fan grill back panel, you can then run a push/pull setup on both radiators for some awesome cooling.
Conclusion
The Azza Fusion 4000 is a great case. Perfect for the water cooling enthusiasts out there. Don't get me wrong, this case is also great for air cooling but it really shines because of all of the water cooling features it has.
Here is a breakdown of what I liked and didn't like about the case.
Pros:
Awesome water cooling support
Easy to remove panels
Dual PSU cable included
Multiple back panels for top compartment included
Quality fan filters
Almost 1" of space behind the motherboard tray
Cons:
Cheap thumb screws
More 3pin fan connectors needed in top compartment
Blue LED fans do not match the case accents
No 3.25" adapter for 5.25" bays
More color accents
The cons can easily be fixed with a few dollars if it bothers you that much. Despite the cons, I can easily give the Azza Fusion 4000 a 10/10. It really is a great case for both water coolers and air coolers. Even better if you are looking to have a gaming system and a home server. You can find the case at
Xoxide.com for $239.95
. If your looking for a great case and want to be able to expand, you defiantly want to pick this up.
This product was provide to me free of charge by its manufacturer for the purpose of this review. I am in no way influenced or supplied by TCBS.
07-10-2012, 03:29 PM
| | | | |
| --- | --- | --- | --- |
| | 50 Custom PC's in 10 Years! | | |
Re: [Review] Azza Fusion 4000
---
I have this case at home too!
__________________
----------------------------------------
----------------------------------------
NEW GENESIS
*******************************
Modified Azza Genesis with an Intel i7 2600K, Gigabyte Z68X-UD3H, 32GB (8GB x 4) Corsair XMS3, 480GB Sandisk Extreme, 240GB Sandisk Extreme, 1275 Watt Thermaltake 80 Platinum Modular PSU, EVGA GTX 690 4GB, and a Corsair H60
07-14-2012, 05:02 PM
| | | | |
| --- | --- | --- | --- |
| | Its not cool till its watercooled. | | |
Re: [Review] Azza Fusion 4000
---
I was unhappy with the photos so I took new ones. Enjoy!
| | |
| --- | --- |
| Posting Rules | |
Powered by vBulletin® Version 3.6.8
Copyright ©2000 - 2013, Jelsoft Enterprises Ltd.
thebestcasescenario.com