Follow Us On
---
mightyMite
Welcome to the TBCS Community Forums forums.

You are currently viewing our boards as a guest which gives you limited access to view most discussions and access our other features. By joining our free community you will have access to post topics, communicate privately with other members (PM), respond to polls, upload content and access many other special features. Registration is fast, simple and absolutely free so please, join our community today!

If you have any problems with the registration process or your account login, please contact contact us.
| | |
| --- | --- |
| | |
02-04-2009, 08:44 PM
| | | | |
| --- | --- | --- | --- |
| | Will YOU be ready when the zombies rise? | | |
Re: mightyMite
---
Ok, that's good to know. I probably won't be overclocking on this system, so it will only have to deal with stock heat....though that's still something like 300W at peak usage... The Feser and Thermochill radiators look nice, but really, even 157mm depth is pushing it, so I don't think theirs would even fit. Maybe I'll try them for my next project... The Black Ice GTX radiators are 2-pass radiators though, so hopefully that'll help. Since there wouldn't be a boost in dissipation going with a 120.2 over dual 120.1's, I think I'll stick with that; it lets me cool off the coolant between the CPU and GPU...or would it be better to have them both run after the GPU to have the coolant hitting the CPU as cool as possible...hmmm. I did play around with the model, trying to see if it would be feasible to switch to a 120.2, or even 2, and while it could...maybe...be possible, the amount of modification I would have to do to the case is such that I might as well just go with a scratch build (which I think is the direction I'll be going with my next project, but one thing at a time, right?).
02-04-2009, 09:17 PM
| | | | |
| --- | --- | --- | --- |
| | Project: Elegant-Li | | |
Re: mightyMite
---
I think the loop you should be looking at is pump>CPU>rad>GPU>rad>res. That will best utilize the radiators you have at your disposal. Rule of thumb is to always cool the CPU first cos it puts out less heat than the GPU.
02-04-2009, 09:50 PM
| | | | |
| --- | --- | --- | --- |
| | Will YOU be ready when the zombies rise? | | |
Re: mightyMite
---
Ok, I was thinking that would be a good route to go. I had been hoping to be able to get away with no reservoir, but I think I might be able to squeeze something like
this
in. Thanks for your help.
edit:
So, I worked Sketchup around a bit more, and I think this is where I'm heading atm. I dropped the SSDs (at least for the moment) because I honestly don't see this system ever getting that upgrade. I think I might go ahead and build in a mount for one or two between the vertical HDD and the reservoir though, just in case.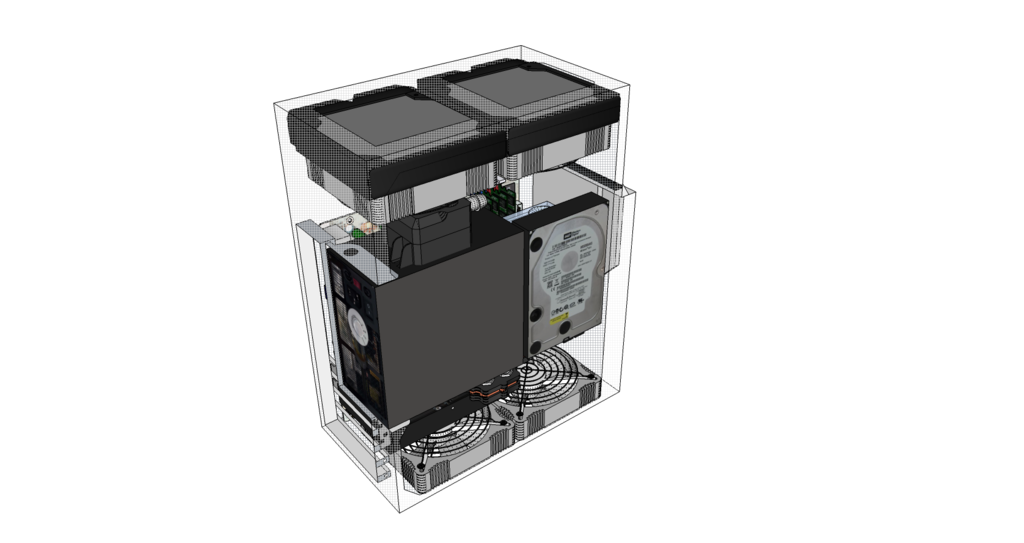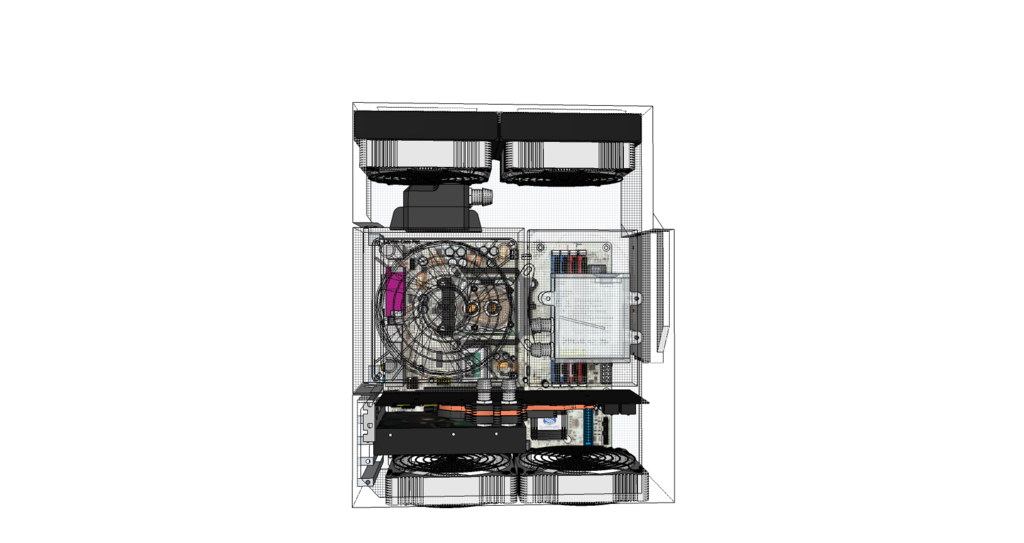 So, on the to-do list:
Seal back of case
Seal side of case
File/sand down the JB-Weld on all surfaces to make smooth and ready to paint
Get PSU and prepare it for modification
Get various water-cooling parts
Design/Make CD/HDD/SSD/res/PSU/pump mount
Design/build control electronics
...yeah, ok, so I've got a ways to go
---
Last edited by x88x : 02-04-2009 at

10:19 PM

. Reason: added pics
02-05-2009, 12:01 AM
| | | | |
| --- | --- | --- | --- |
| | Project: Elegant-Li | | |
Re: mightyMite
---
Yeah those Swiftech reservoirs work very well, Make sure you do get the V2 though, it has more inlet/outlet options.
The cads look very good. If you have the space you could always attach the pump directly to the res. That would give you some extra room above the PSU. I know you can get acrylic tops for that particular pump which allows for a vertical inlet rather than the 2 horizontal ones. You could make a compact res/pump combo to save space.
*EDIT*
This is what I mean
02-10-2009, 11:17 PM
| | | | |
| --- | --- | --- | --- |
| | Will YOU be ready when the zombies rise? | | |
Re: mightyMite
---
Ok, not much of an update, but a little bit... it's been too long. Anyways, the front panel is looking pretty good, I've still got a couple little holes I want to fill in, but overall I'm happy with it. As a side note, 25-grain sand paper is freakin course!
well, granted, the last time I bought sandpaper, it was for lapping a heatsink, and was stuff ranging from 800-2000-grain, but still..dang. Anywho.... I realized as I was trying to fit stuff together, that, while the locking nuts will be nice once I get it together, they kinda suck now...b/c I can't hold stuff together... so I put in an order with boltdepot.com (awesome site, btw) for some normal nuts, and also some 6mm bolts instead of the 10mm I got before. The 10mm are nice for testing b/c they give me more leeway to work with, but once I get stuff finalized, I'll want something shorter (yeah, I know I could just grind them down, and I will probably end up grinding some down, but considering I'm replacing all the rivets in the case with these, I really don't want to have to grind down ~40-50+ bolts).
I think tomorrow I'm gonna take the plunge and order the radiators (would do it tonight, but DangerDen's website is down). I've kinda been putting this off, but I really need them to get the top of the case planned/done, and plus, it'll give me more motivation to work on it more
Also, I have more free time on Wednesdays, so hopefully tomorrow I'll be able to get started on the center mount.
02-12-2009, 01:08 AM
| | | | |
| --- | --- | --- | --- |
| | A big old Tease Apparently | | |
Re: mightyMite
---
cool sounds good,
02-16-2009, 05:55 PM
| | | | |
| --- | --- | --- | --- |
| | Will YOU be ready when the zombies rise? | | |
Re: mightyMite
---
Sorry for the slow/small updates recently...I rather underestimated how much of my time my two classes + 30 hours/week at work would take up
Anyways, pics! I got the front panel finished up, and the bay cover mounted.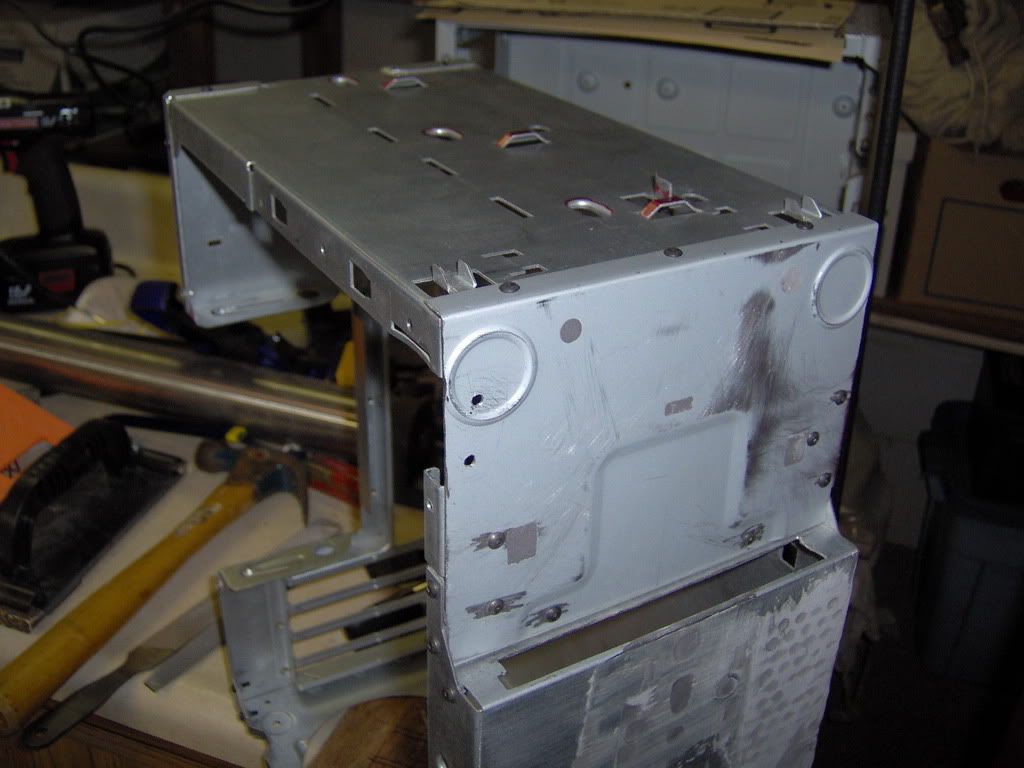 One thing I didn't really think about before I actually got it assembled; the drive-bay assembly actually provided a lot of support, which my cover plate doesn't. Main point of interest was here:
There used to be a huge assembly here, bracing the top, front, and side, and that's gone now.... Solution: make a better brace.
Mounted in place: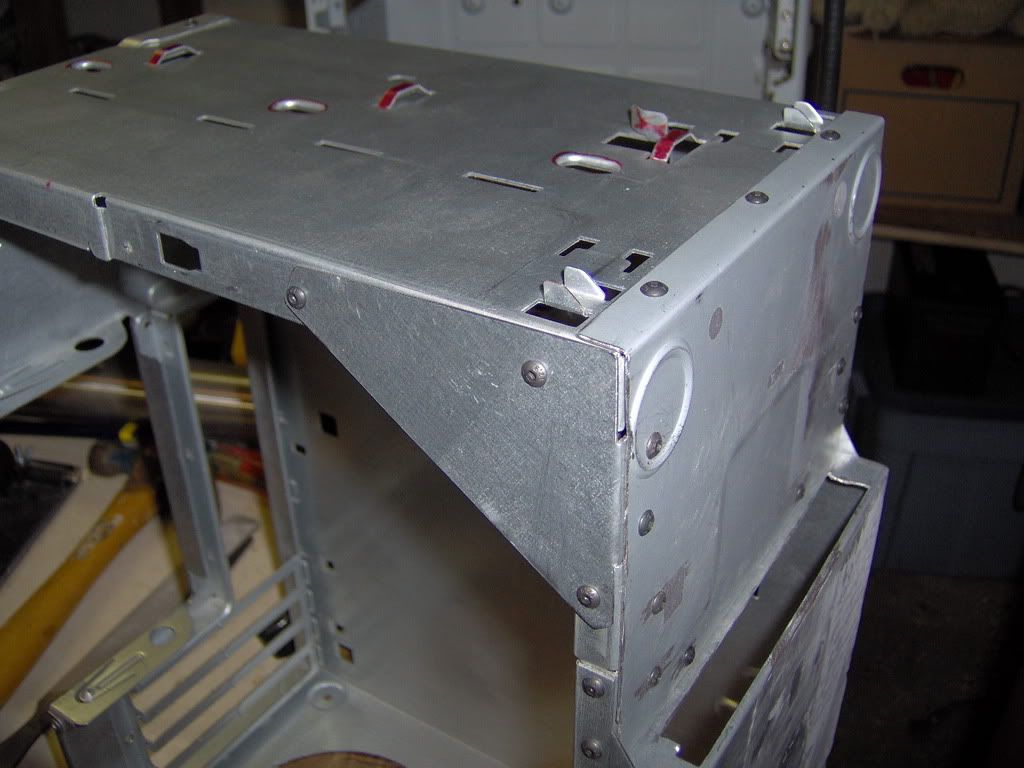 The brace was actually made out of the left-overs from one of the big holes I made in the bottom. It's amazing how much stability that one little piece adds; I think it might actually be stronger now than it was originally.
The rads are scheduled to get here on Thursday, so hopefully Thursday or Friday I'll be able to get started on the top. I've got some plans laid out for the center structure, and while I'll need the PSU before finishing them, I should be able to get at least the front section done. I have another donor case that I'll be cannibalizing for the mounts. Whoever threw away the other case took the panels, the only large pieces of flat sheet in the case.
Anyone know of a good source for the Swiftech MCRES Micro V2? I found it
here
, but it's a bit more than I was expecting ($25, vs $15 for the V1 @ xoxide). Is about what would be expected for the V2 or is that just Sidewinder price-gouging?
02-16-2009, 09:34 PM
| | | | |
| --- | --- | --- | --- |
| | Project: Elegant-Li | | |
Re: mightyMite
---
The V2 seems mor eexpensive because they are trying to clear the stock of the original. Personally I would go for the V2, I have seen many of the originals crack and leak, they seemed to fix the problem with the V2.
Progress is going smoothly. Your doing Uni aren't you? I am starting at the end of the month, got 4 subjects first semester, no time for modding
.
02-16-2009, 10:20 PM
| | | | |
| --- | --- | --- | --- |
| | Will YOU be ready when the zombies rise? | | |
Re: mightyMite
---
Ah, ok. I was wondering if there was something more to the difference than just the extra port. Yeah, I'm in college. I went for 2.5 years one place, took a year off, got a job, and now I'm going back part-time somewhere cheaper/more local to where I work. I'm only taking 2 classes this semester, but it's still kinda a shock going from just working full time to 2 classes, plus 30 hours/week working, commuting a good distance for each. Life gets kinda full when some days it's a full 12 hours from the time I leave in the morning till I get back at night. On the bright side though, I can actually afford to fund more of my projects
02-17-2009, 01:37 AM
| | | | |
| --- | --- | --- | --- |
| | A big old Tease Apparently | | |
Re: mightyMite
---
nice bracket... looks strong
| | |
| --- | --- |
| Posting Rules | |
Powered by vBulletin® Version 3.6.8
Copyright ©2000 - 2013, Jelsoft Enterprises Ltd.
thebestcasescenario.com