Follow Us On
---
[Review] Raidmax Aeolus
Welcome to the TBCS Community Forums forums.

You are currently viewing our boards as a guest which gives you limited access to view most discussions and access our other features. By joining our free community you will have access to post topics, communicate privately with other members (PM), respond to polls, upload content and access many other special features. Registration is fast, simple and absolutely free so please, join our community today!

If you have any problems with the registration process or your account login, please contact contact us.
09-25-2011, 03:10 PM
| | | | |
| --- | --- | --- | --- |
| | Its not cool till its watercooled. | | |
[Review] Raidmax Aeolus
---
AEOLUS
More than cool
"Aeolus defines itself as "the ruler of the winds." This Raidmax gaming case delivers a fresh visual design as well as exceptional functional use. This properly cooled system keeps a constant stream of air moving throughout the entire case at all times which is vital for proper function and longevity of electronic components. The 430mm depth of chassis supports longer VGA cards and removable HDD cage allows more room for a larger sized power supply. Tool-free and cable management allow for easy assembly at all times. Rule your PC world with Aeolus."
Packaging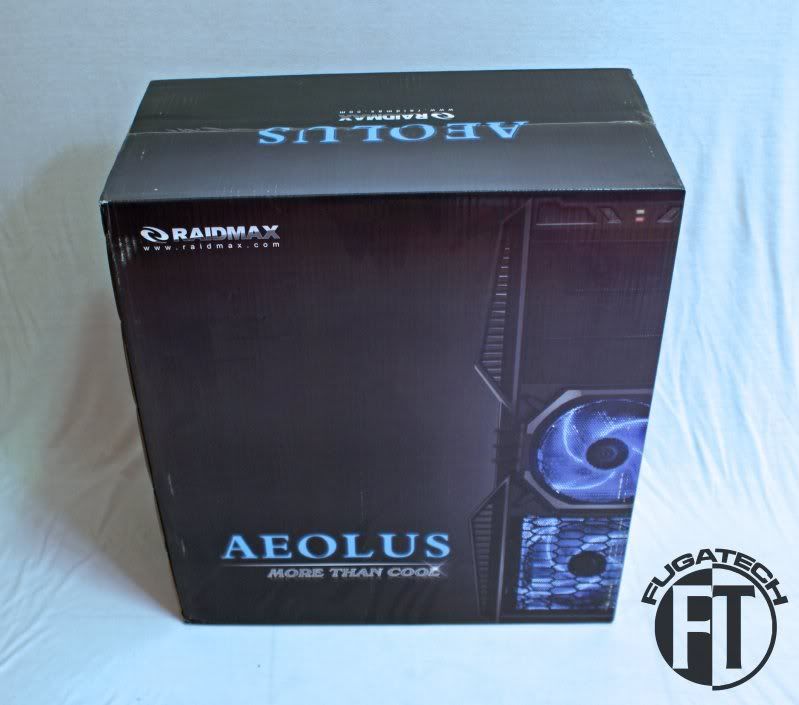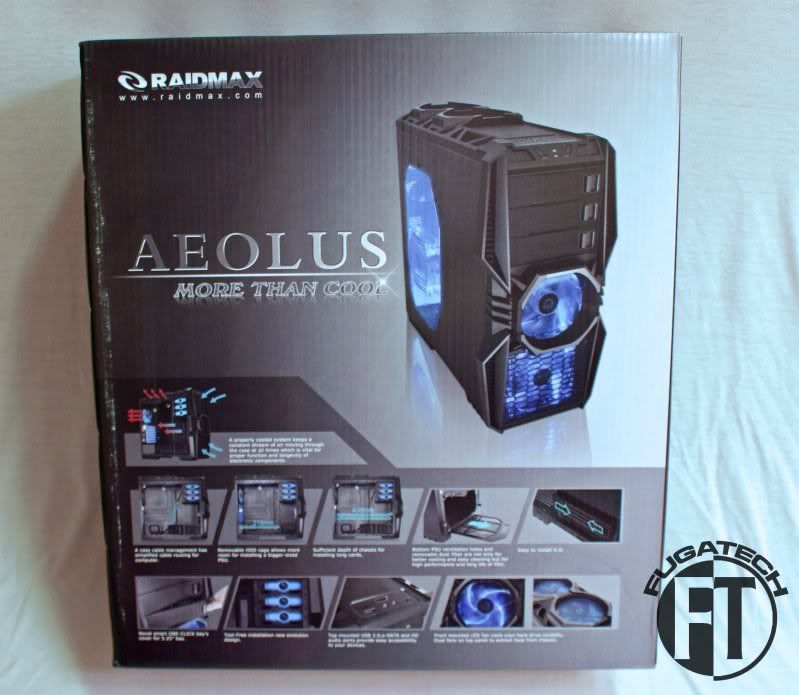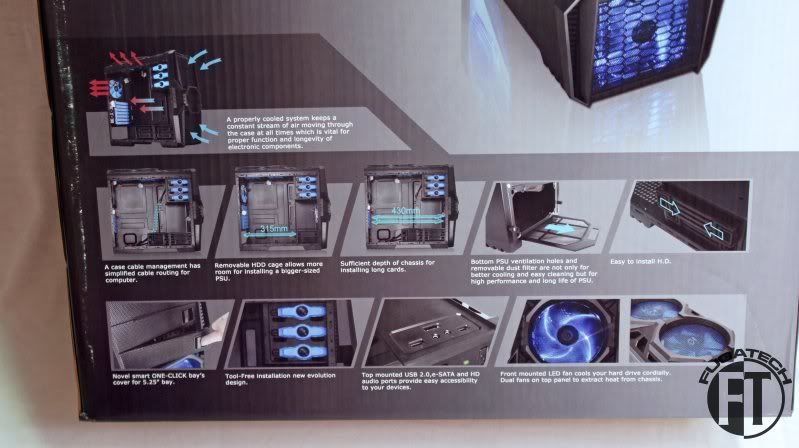 The box looks just like any case box. I got the impression that Raidmax wanted to show off the color accents on the case by the color choices of the box. On the back side of the box there are some key features about the case. Also on the side of the box there is a "Basic Specification" section that gives you some hard numbers about the case.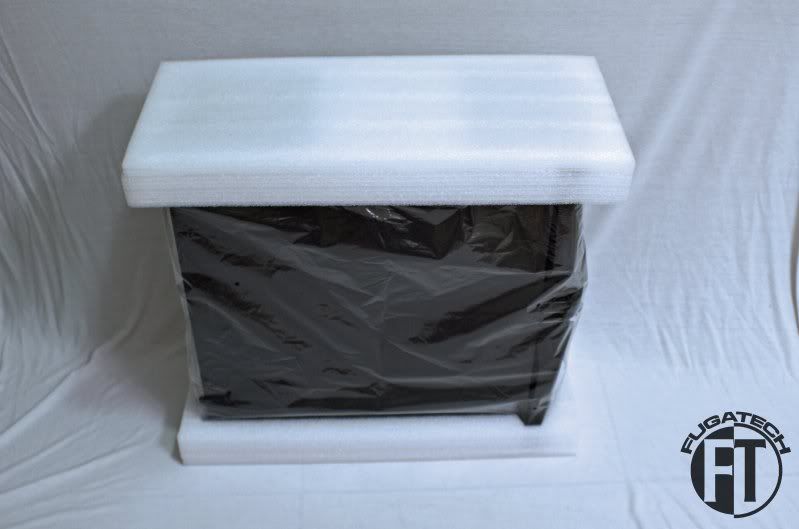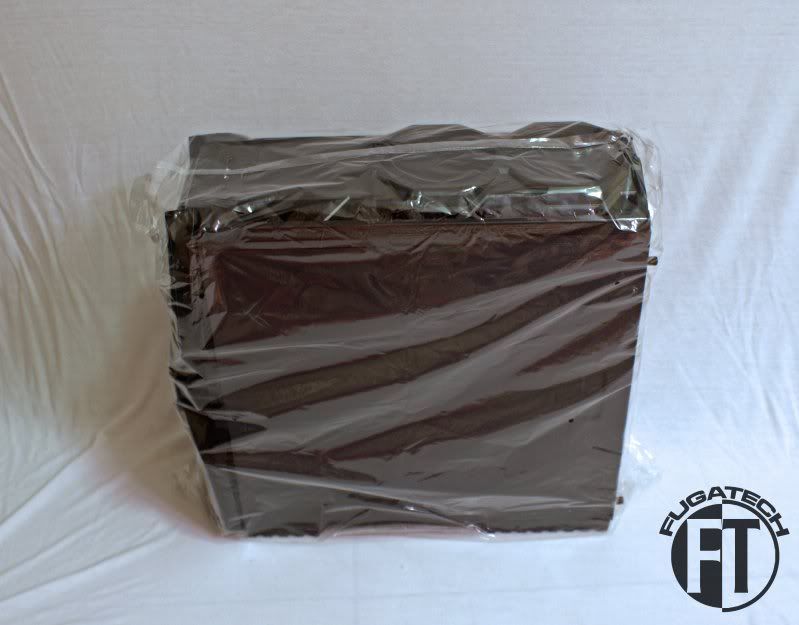 The case packaging was pretty standard. 2 closed-cell foamed end pieces held the case in place inside the box. The case was wrapped in a thick plastic bag to keep dust off the case and to keep it from getting scratched.
A Closer Look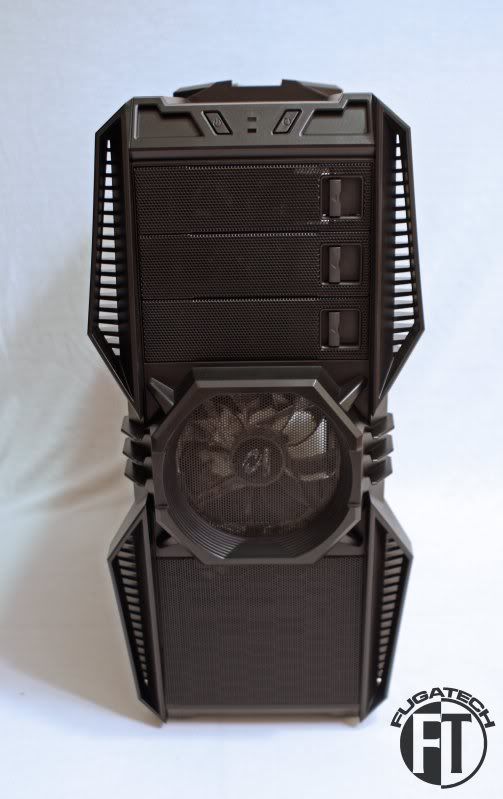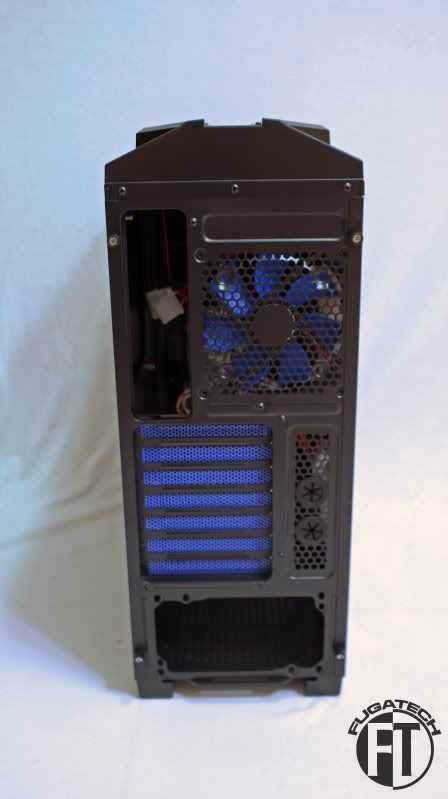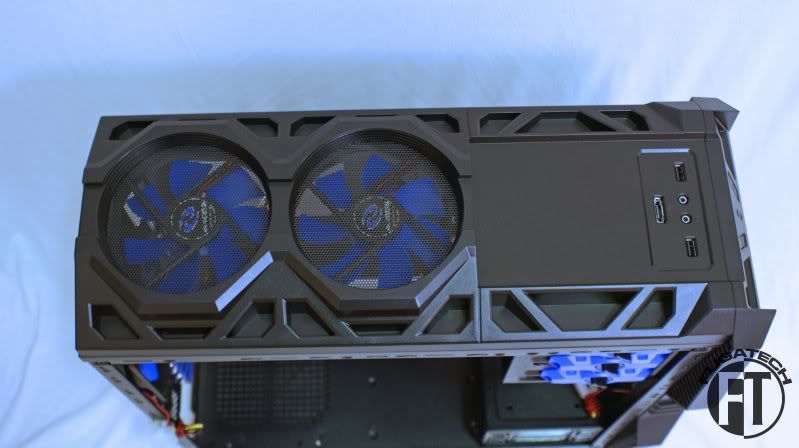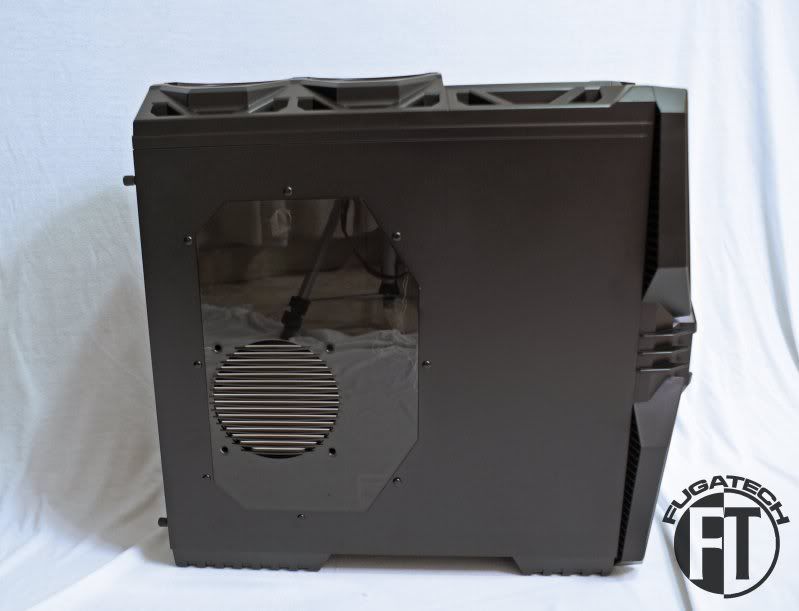 I really like the look of this case. It has a slight "futuristic" look to it without looking or feeling cheap. Older Raidmax cases were very flimsy and cheap feeling. Well that was not the case here. The quality build of this case is something you would expect from a $100+ case.
The case comes with a very limited amount of mounting hardware.
After taking the side panel off you can see how the fans, PCI slot covers and the 5.25" bay locks all match. By removing the front rear HDD cage there is 315mm f space for your PSU. Having the HDD cages mounted to the bottom of the case gives you 430mm of space for those huge video cards.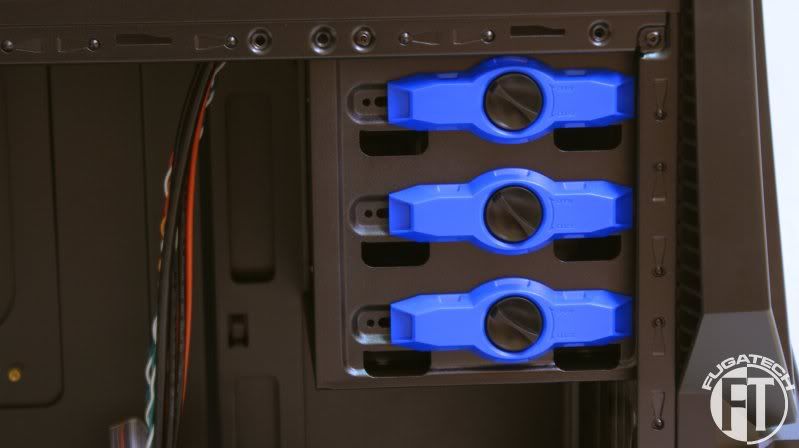 The 5.25" bay have a tool-less mounting system works well and is not flimsy.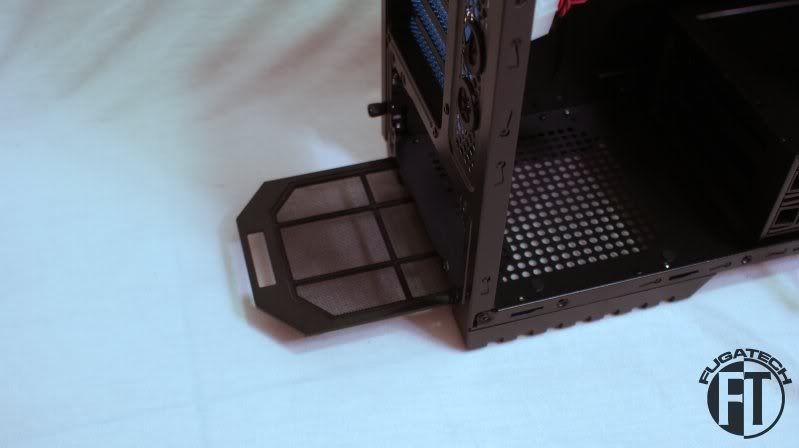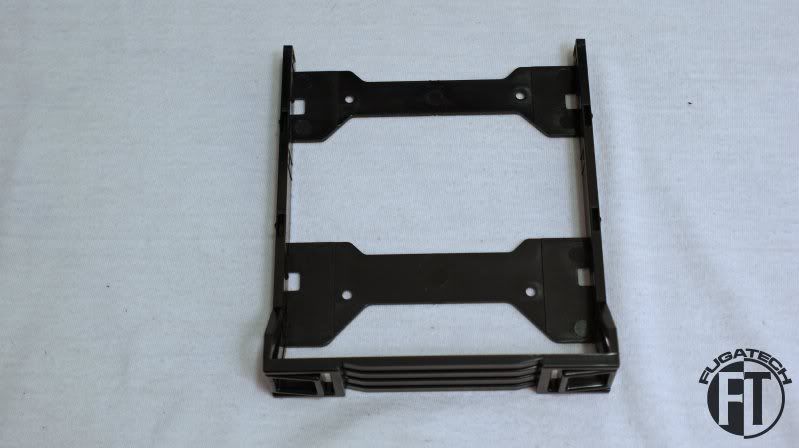 Moving to the bottom of the case, you can see the PSU vent has a filter. It is well made and not very flimsy. To the right are the 2 HDD cages. The bays to the left are removable by taking out the screws located under the case. The HDD slides are rather flimsy but once installed the are sturdy. You can mount a 3.5" or 2.5" HDD to the slides.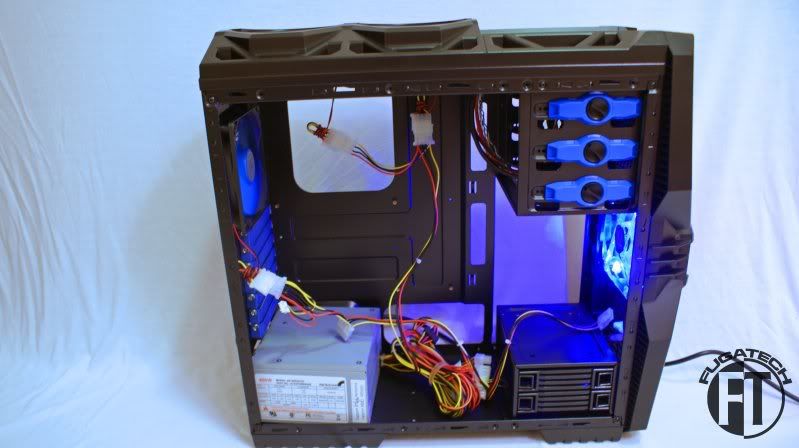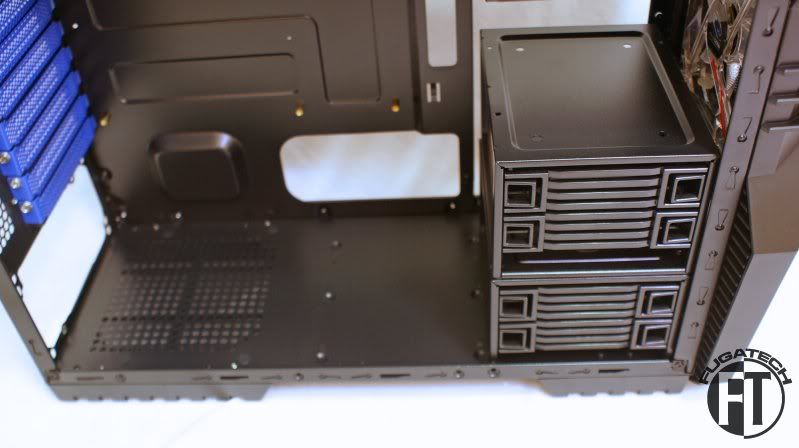 My biggest problem with these HDD bays is that they are not stackable. There is no way to get a PSU in and have both HDD cages installed. Also the left HDD cage covers up the PSU cable management hole. I stacked them and you can see it would work out well. Even when I installed a system my GTX 560Ti had more than enough room to fit with the HDD cages stacked.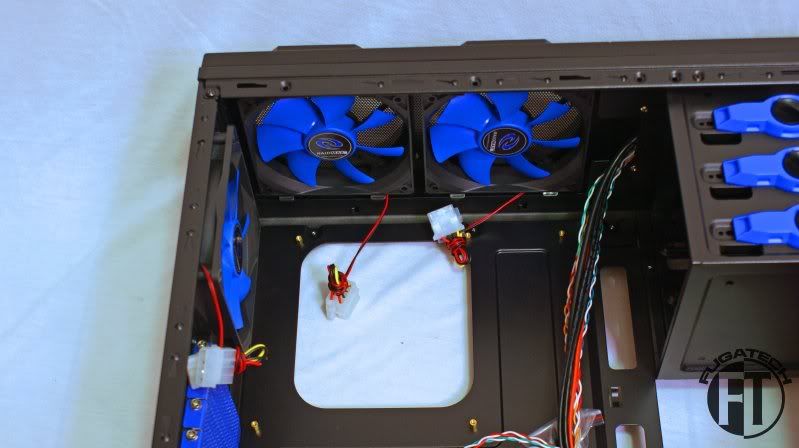 Inside the top of the case there are two 120mm fans held in with 4 pressure clips. These enable quick and easy mounting. During shipping one of the fans came loose and damaged 2 of these clips so now the fan is not completely secure. You can also see the very large CPU cutout in the motherboard tray which is not removable.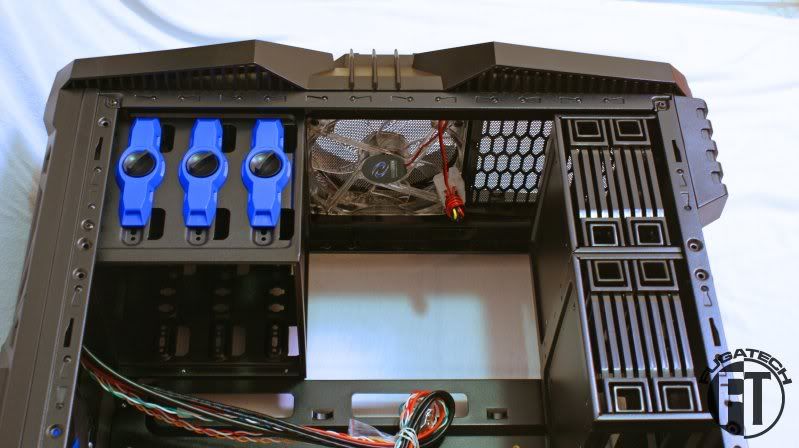 The front of the case has one 120mm clear LED fan in it with the option of mounting a second 120mm fan in the bottom mesh area. The bottom fan would blow directly onto the HDD cages where the fan in the middle would blow directly onto where your video card(s) would be.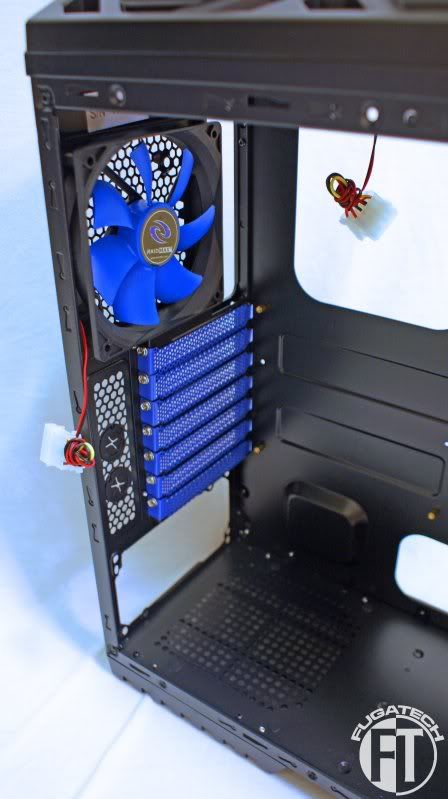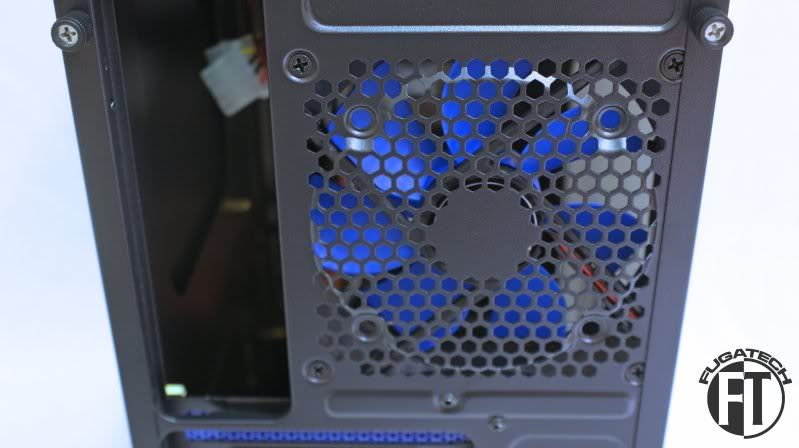 The rear of the case has a single 120mm fan with holes to mount a 80mm fan. Below the fan are 7 expansion slots that are covered by some eye catching blue mesh cover. These covers match the fans and tool-less mounting system.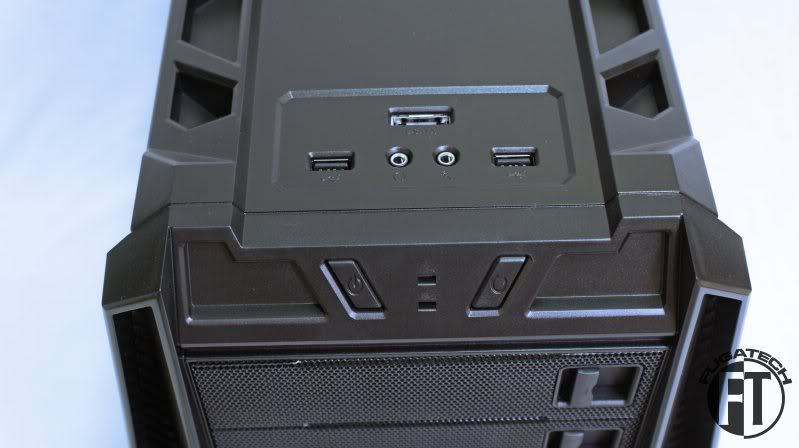 The front I/O panel is what you would expect from an case. It has 2x USB 2.0, 1x ESATA, headphone and mic jack, power and reset buttons. The top of the case has a flat area to put things like a USB or ESATA external HDD or to charge your small USB accessories.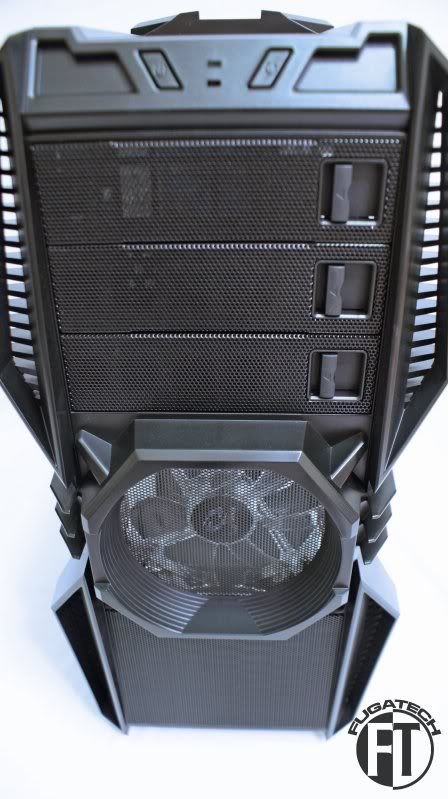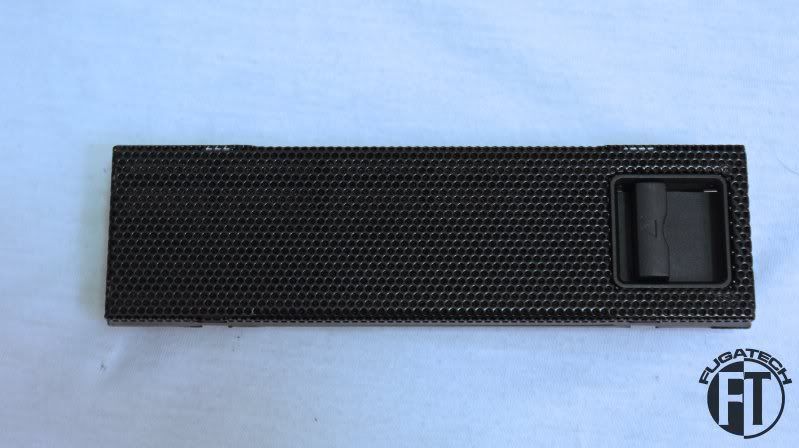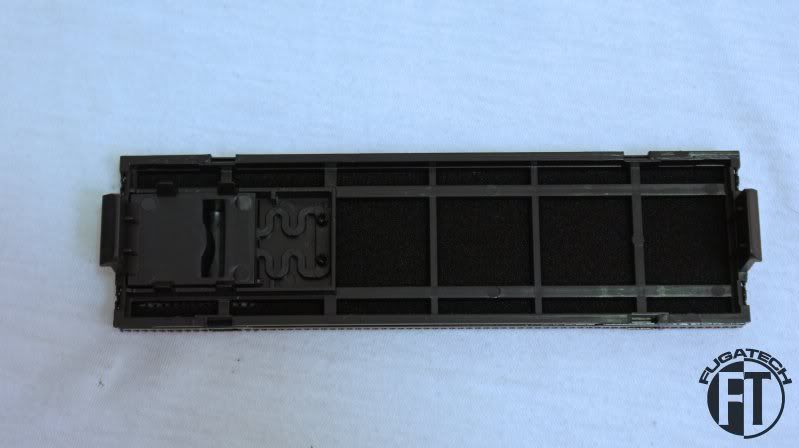 The 5.25" bay covers have a "One-Click" locking system that I have not seen before. They are built very well and have dense dust filters which will keep a lot of dust from coming in through the front of the case.
I was not a fan of the doors on this case. Only the back panel had a grove that acted like a handle. The window side had nothing which made it difficult to take off. The windowed side panel can have a 120mm fan mounted to it which is not included with the case.
Installation
System Specs:
OCZ ZX Series 1000W PSU
Gigabyte 880GA
AMD AthlonII X4 640
4GB DDR3-1600
80GB WD HDD
EVGA GTX 560Ti
Lite-On SATA Dual Layer DVD+R Lightscribe Drive
Installing the system was fairly easy. As I said before, I had to remove the rear HDD cage because my modular PSU would not fit. Cable management is limited. All of the holes are in the right spots but the space behind the motherboard tray is very tight. Also there is no CPU power hole so the cable must run across the board.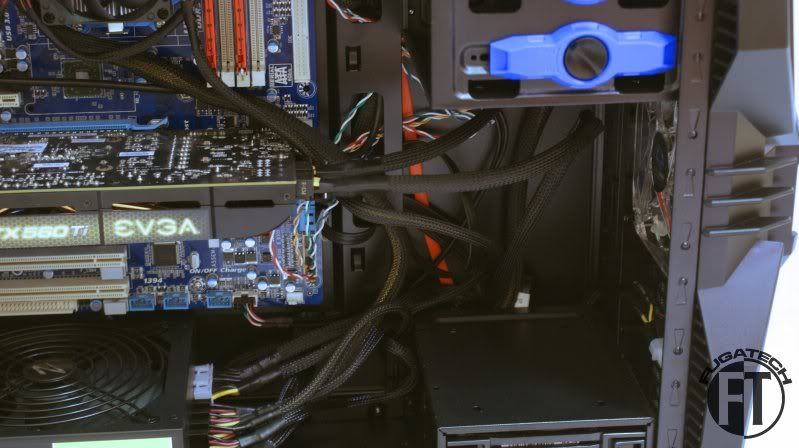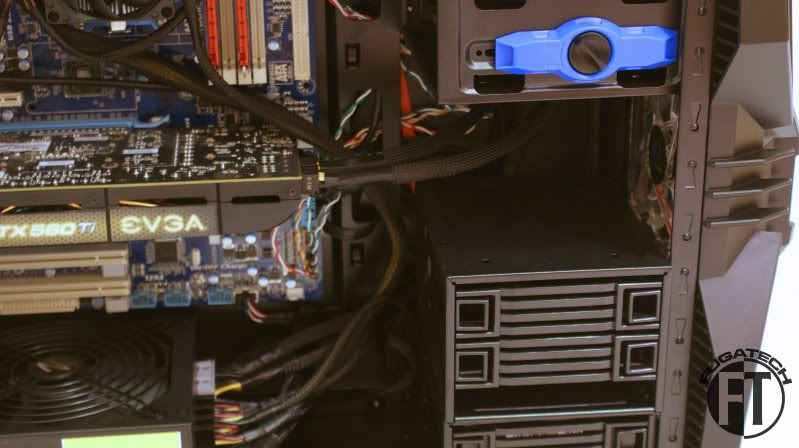 Here you can see that stacking the HDD cages would be a huge improvement. There is roughly 2 inches between where my GPU ends and the HDD cage starts.
Conclusion
In the past Raidmax has been a "cheaper" build case but the Aeolus is anything but that. Despite a few design flaws, this case is a step in the right direction for Raidmax. You can pick this case up for
$69.99 at Newegg
at the time of this review. With a few changes I think this case could be an awesome case.
Pros:
Sturdy design and construction
Matching fans, PCI covers and 5.25" bay hardware
Tool-less 5.25" bay locks
Large CPU cutout
Good placement of the cable management cutouts
Cons:
No USB 3.0
Flimsy HDD slides
Non-stackable HDD bays
Small amount of space behind the motherboard tray for cable management
Fan clips are not high qulity
Side panel door does not have a handle
After considering the pros and cons of this case, I give it a 6 out of 10. I really do like this case but some changes need to be made to it.
After looking at Raidmax's website I see there is a new "VL Version" is out. The newer model replaces the USB 2.0 with USB 3.0, adds space behind the motherboard tray for greater cable management, adds handles to both side panel doors and adds a mounting device to enable you to stack the HDD cages. With these changes I would give this case an 9/10.
This product was provide to me free of charge by its manufacturer for the purpose of this review. I am in no way influenced or supplied by TCBS.
09-25-2011, 06:36 PM
| | | | |
| --- | --- | --- | --- |
| | baaah. | | |
Re: [Review] Raidmax Aeolus
---
I hate the name of this case... reminds me of areola too much... haha. Great review.
__________________
Quote:
Originally Posted by Omega
ber is id elicous
Centurion 5 Mod
<<--- ON HOLD FOR THE WINTER
10-18-2011, 06:57 AM
| | | | |
| --- | --- | --- | --- |
| | mentally overclocked | | |
Re: [Review] Raidmax Aeolus
---
Quote:
Originally Posted by
billygoat333
I hate the name of this case... reminds me of areola too much... haha. Great review.
why did you make me think of that? i didn't even noticed till you mentioned it, get your head out of the gutter!
__________________
"The very existence of flamethrowers proves that sometime, somewhere, someone said to themselves, 'You know, I want to set those people over there on fire, but I'm just not close enough to get the job done." -George Carlin
"Fighting for peace is like screwing for virginity." -George Carlin
Quote:
Originally Posted by DynamoNED
Any contest that lacks integrity is no contest at all
10-20-2011, 01:03 AM
| | | | |
| --- | --- | --- | --- |
| | Why must hard drives fail together? | | |
Re: [Review] Raidmax Aeolus
---
Great review, the case isn't something I'd buy personally but it seems like the second version would be a decent cheap case for those who like the style. +rep
| | |
| --- | --- |
| Posting Rules | |
Powered by vBulletin® Version 3.6.8
Copyright ©2000 - 2013, Jelsoft Enterprises Ltd.
thebestcasescenario.com